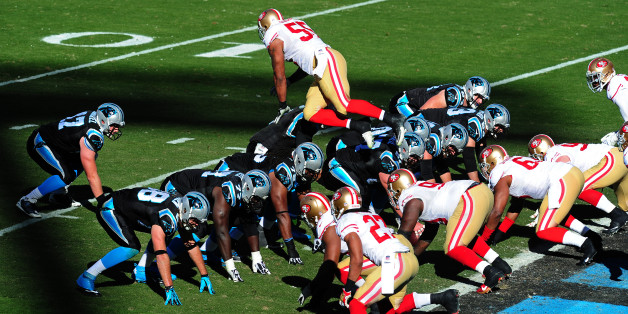 The Carolina Panthers had the quarterback with the 'Superman' cleats but it was a San Francisco 49ers defender who was the one flying through the air in Charlotte.
49ers linebacker Ahmad Brooks attempted to time his leap with the Panthers snap on a 3rd-and-goal play at the 1-yard line. As the officials had no trouble noticing, he took off just a bit early and soared over the Panthers' offensive line before they play had even begun. Instead of making a spectacular tackle behind the line of scrimmage Brooks was easily called offside.
(GIF via @thescore)
Making the epic encroachment penalty even more memorable was the dramatic flop by Panthers quarterback Cam Newton.
(GIF via @SBNationGIF)
Golden State Warriors guard Steph Curry joked that Newton's histrionics could draw the ire of the NBA.
Cam will be hearing from league offices. flop warning hahahaha

— Stephen Curry (@StephenCurry30) January 12, 2014
Had Brooks' takeoff been better timed and his landing a bit more on target then the play could have resembled a similar play famously executed by Pittsburgh Steelers safety Troy Polamalu.
Instead of replicating Polamalu's effort, Brooks got trolled by the Steelers' Twitter account.
There's only one @tpolamalu .
#TroyBeingTroy . pic.twitter.com/c2ifMrTAkj

— Pittsburgh Steelers (@steelers) January 12, 2014
Brooks would have the last laugh as the 49ers' defense held the Panthers to a field goal on that series. The 49ers would go on to win 23-10 to clinch a spot in the NFC Championship Game.