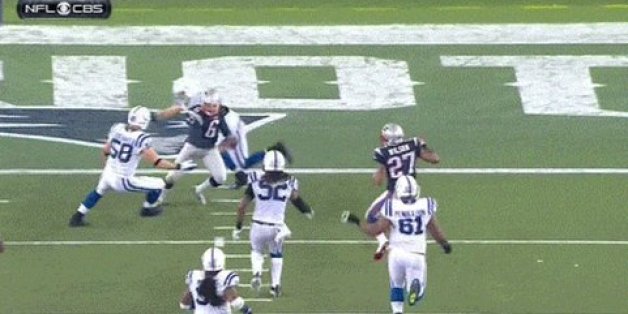 CBS announcer Dan Dierdorf did not agree with the way Patriots punter Ryan Allen handled a botched snap but nobody listening seemed to agree with him.
New England lined up to punt on fourth down from its own 44-yard line, but the snap flew well over Allen's head. The ball rolled all the way down to the Patriots' 2-yard line before he could track it down. A handful of Colts players met Allen inside New England's 5-yard line and tackled him as he tried to throw a forward pass to a teammate nearby. But the ball got batted backwards and traveled out of bounds in the back of the end zone, resulting in a safety for the Colts.

(GIF via BuzzFeed Sports)
As CBS showed the replay, Dierdorf insisted that Allen should have simply given himself up and given Indianapolis the ball at New England's 2-yard line. Rather than simply saying that the attempt to throw the pass was ill-advised as it could have been intercepted for a touchdown, Dierdorf argued that the resulting safety was not the best-case scenario in the circumstances. As Dierdorf seemed to see it, the Patriots would have been better off had Allen fallen on the ball so the defense could attempt to stop the Colts in a first-and-goal situation.
"That's the crazy thing about it. He could have just stayed on the football right there and at least you give your defense a fighting chance. There was no possibility of something good happening by him coming up with that football and trying to throw it forward," Dierdorf said. "You have possession of the football there. Get tackled at your own 2-yard line. And at least you make the other team work to get it into the end zone."
While Dierdorf's advice might have kept points from being scored on that particular play it was unlikely that his strategy would have paid off in the slightly longer run. Even if the Colts failed to score a touchdown then they likely would have kicked a short field goal for three points.
Many people watching the game and listening to Dierdorf were quick to disagree on Twitter.
PHOTO GALLERY
Reactions To Dierdorf's Safety Analysis
Nevertheless, Dierdorf seemed to be standing by his analysis after CBS returned from a commercial break.
"There's two schools of thought here. You don't concede points if you go down in the field of play and you see what happens. Yeah, granted they might score a touchdown. But you might also limit them to a field goal attempt. I mean, anything can happen," he said. "Certainly, if it's in the end zone, it's a no-brainer. You either fall on it. You take the safety. You kick it out. You do whatever. Who knows what's the right or wrong way to go about it right there but that was a sloppy play."