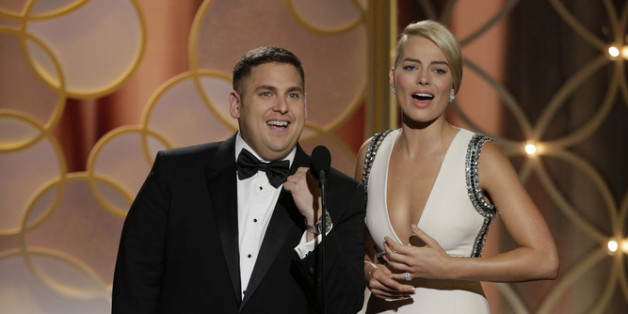 Even the most well-oiled, refined affairs rarely go off without a hitch, and the 2014 Golden Globes was no exception. The show was obviously a very classy, sophisticated celebration but it wasn't without a few cringe-worthy moments.
Check out the most awkward moments of 2014's Golden Globes.
Jonah Hill and Margot Robbie fumbled for just a second when the Teleprompter showed the incorrect talking points.

Jacqueline Bisset said some words, or something like that, and called it an acceptance speech.
Alex Ebert won the award for Best Original Score for his work on "All is Lost" and said "thanks for letting me try all over your movie."

Diddy tried to give Bono a hug, and almost gave him a smooch on the mouth.
Robin Wright hugged Sosie Bacon, but Miss Golden Globe wasn't really feeling it.

Charles Roven almost thanked "The Academy" while accepting the award for Best Motion Picture, Musical, or Comedy for "American Hustle."

The gaffe happens at 1:19.
And Leonardo DiCaprio flubbed the title of the film "Philomena," launching the "Philomania" Twitter trend.
Phil-O-Mania! #philomania

— Mike Ryan (@mikeryan) January 13, 2014
How has NO ONE made a gif of Leo DiCaprio saying "Philomania?" You're letting me down, internet.

— Kristy Puchko (@KristyPuchko) January 13, 2014
I think "Philomania" will have better luck at the SAGs.

— Rachel Dodes Wortman (@racheldodes) January 13, 2014
Got back from the doctor. Have a terrible case of Philomania.
#GoldenGlobes

— nate corddry (@imnatecorddry) January 13, 2014
BEFORE YOU GO
PHOTO GALLERY
Golden Globes 2014: The WHOLE Red Carpet