 The 71st annual Golden Globes were full of surprises, upsets and a lot of people talking about drinking. Maybe you watched the whole thing. Maybe you switched over to "Girls" and missed some of the most head-scratching moments. In any case, we bring you the most frequently asked questions from the Globes ceremony.
Why did Reese Witherspoon introduce "12 Years A Slave"?
Because she's from New Orleans, y'all! Just kidding. There's speculation that Witherspoon introduced "12 Years" on account of her affiliation with Fox Searchlight Productions (she was announced as the star of "Wild," which the studio will release this coming spring). That said, the whole thing mostly just felt like these movie posters.
What was going on with that Jacqueline Bisset person?
Well, hold on. That Jacqueline Bisset person deserves some respect! She's been in the industry for a long time. As she put it: "I think it was was 47 years ago that the Hollywood Foreign Press gave me a ... promising newcomer." It was actually 45 years ago for her role in "The Sweet Ride," but whatever. She rambled, but that was because she was thinking about dinner.
Stop trying to be funny. Do acceptance speeches even really matter?
Actually, yeah. The Globes sort of function as a test run for the Oscars, in which Oscar voters can get an idea of what to expect in terms of an acceptance speech. As Scott Feinberg pointed out over at The Hollywood Reporter, "several people who are in close Oscar contests" -- such as Leonardo DiCaprio and Matthew McConaughey -- "did give themselves boosts with classy, funny and moving words at the podium."
Oh, so the Globes can basically predict who will win at the Oscars?
Not really, but it might be significant that a relatively wide swath of contenders won Globes. "12 Years A Slave," "Gravity," "Blue Jasmine," "The Great Beauty," "Frozen," "Her," "The Wolf Of Wall Street," "Mandela: Long Walk To Freedom" and "All Is Lost" all took home one award, in addition to two wins for "Dallas Buyers Club" and three for "American Hustle." "There was a different movie winning Picture ('American Hustle,' '12 Years A Slave'), Director ('Gravity') and Screenplay ('Her')," Pete Hammond noted at Deadline, "And that really shows how divided voters are about this year's impressive lineup of movies."
Wait, so Leo is going to finally win an Oscar this year?
It's a real possibility! Leo's been nominated three times, for "Blood Diamond" (2006), "The Aviator" (2004) and "What's Eating Gilbert Grape" (1993). There are a lot of theories as to why he is only nominated and never wins, ranging from child-star syndrome to the quality of the films (are they "so great that they're eclipsing his powerful performances"?). In any case, the graciousness of his speech certainly didn't hurt his Best Actor chances, though it came too late to affect the Oscar nominations: voting for the Academy Awards closed on Jan. 8.
But I really want him to win!
We do, too.
Will tuxedo scarves become a thing now?
Maybe tuxedo scarves are presented at a special ceremony honoring veteran actors, perhaps held in a hunting lodge or a sauna. The whole thing is shrouded in secrecy, but you could probably just ask Jon Voight.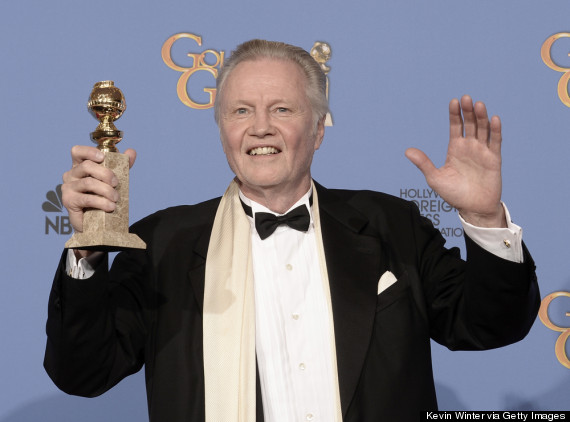 Why was everyone so upset about Woody Allen?
Woody Allen was honored for the Cecil B. DeMille lifetime achievement award, which Diane Keaton accepted in his place, by thanking him for his treatment of women in film (before singing an uncomfortable rendition of the Girl Scout friendship song). Perhaps because Keaton specifically mentioned Allen being great at "women-things," but also because of his extremely controversial past, many took issue with Allen's award and the validity of his being lauded for a lifetime that included marrying Mia Farrow's adoptive daughter and allegedly abusing another of Farrow's daughters. Farrow and her son, Ronan, were quite clear about their feelings on the matter.
Missed the Woody Allen tribute - did they put the part where a woman publicly confirmed he molested her at age 7 before or after Annie Hall?

— Ronan Farrow (@RonanFarrow) January 13, 2014
Wait, that awkward song was from the Girl Scouts?
Apparently! You can cringe over all 45 seconds of it here.
When is Jennifer Lawrence going to get used to giving acceptance speeches?
Probably never. She's won, like, a lot of awards (including an Oscar and two Golden Globes). As Christopher Rosen noted, Lawrence's biggest competition at the Oscars will likely be Lupita Nyong'o, though whether the "12 Years A Slave" star can defeat America's Best Friend remains to be seen. As Amy Poehler and Tina Fey put it during the Golden Globes, "This is Hollywood, and if something kinda works, they'll just keep doing it until everyone hates it." At least she doesn't fake surprise.
Do I have to start watching "Brooklyn Nine-Nine" now?
Kind of! The show's only had 12 episodes and it won Globes for "Best Comedy" and "Best Actor in a TV Comedy." Andy Samberg was just as surprised about his win as everyone else, but "Brooklyn Nine-Nine" boasts an excellent ensemble cast which does an impressive job handling gender and race while perpetually maintaining a tone just north of "silly." It's possible that after these major surprise wins, the show -- which has brought in only modest ratings this season -- will be heading towards a second season surge, much like "The Office" saw back in 2005.
Why did Tina Fey tell Amy Poehler there's a "special place in hell" for her? I thought they were best friends!
Don't be a fool! Tina and Amy are the best friends that ever were and ever will be. That was a jab at Taylor Swift. Perhaps you'll recall last year, when Fey and Poehler joked that Swift had "better stay away from Michael J. Fox's son"? Well, Swift did not like that, telling Vanity Fair that Katie Couric told her that there is "a special place in hell for women who don't help other women." In other words, that subtle comment held a wealth of rightful passive aggression. Point Tina.
BEFORE YOU GO
PHOTO GALLERY
Golden Globes MAIN gallery