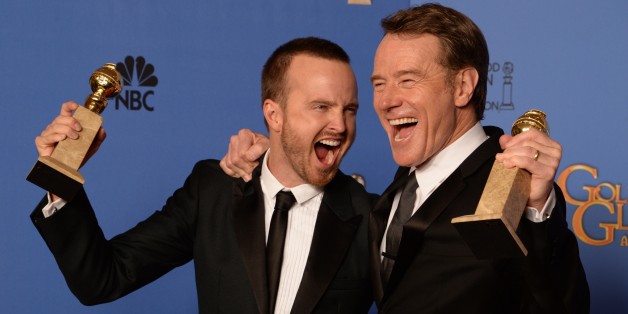 Sunday night (Jan. 12) was definitely Walter White's night at the Golden Globes.
The Hollywood Foreign Press gave AMC's "Breaking Bad" one final goodbye by awarding the series with Best Television Drama and Bryan Cranston with Best Actor in a TV Drama, both first-time wins. How will Cranston and his cast celebrate? "I think we're going to wife-swap," the actor said backstage. "That's been discussed. Wife-swapping. You know, you put your card in the basket …"
The suggestion made Aaron Paul and RJ Mitte nearly fall down laughing. But if the swap went down, we don't see Cranston successfully wooing Paul's precious "pretty bird" when her love-struck husband is already the sweetest man alive. And who would the unmarried Mitte offer up for the swap? Maybe those models he once got shirtless with.
Wife-swapping or not, the cast's long-overdue Golden Globes wins deserve some serious celebrating.

BEFORE YOU GO
PHOTO GALLERY
Amy Poehler And Tina Fey Being Best Friends