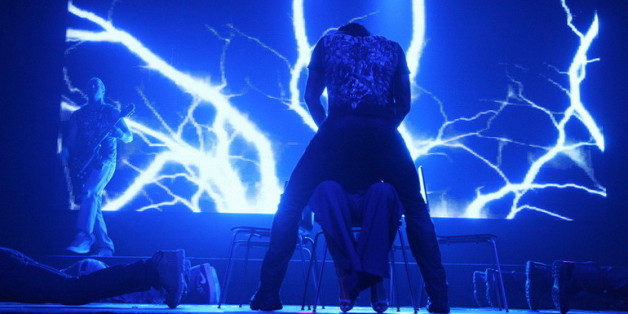 BY JIPSY, NEFARIOUSGIRL.COM
When I hear the word "Chippendales," my imagination takes me to a vision of muscular men with mullet hair styles, thigh high thongs, and bodies drenched in sweat, moving to what's supposed to be seductively choreographed dance numbers to terribly corny songs. Well, having had the pleasure of being at opening night for Chippendales Live at Mansion Miami on Friday, I wasn't far off -- but honestly, since I left my judgment at the door, I had such a good time. I'm still smiling at the memories of that night.

Celebs were in the house of course. Ian Ziering of 90210 and Sharknado fame introduced the show here in Miami, already having guest-hosted Chippendales in Vegas last summer. Real Housewives of Miami's Adriana DeMoura got tied up with hunky men during their cowboy number.
PHOTO GALLERY
Chippendales Miami

Wish I could share it all for you, but why give it away what you should experience for yourselves? The photos already share the story of the night. The Chippendales perform in Vegas and tour around the country, but here in Miami, we get them for nearly the whole month of January. Shows are scheduled for Thursday, Friday and Saturdays at 9 p.m. until January, with doors opening at 8 p.m. This is the time to get tickets and see what the original erotic male dance show is all about.

Tickets start at $49.95 and are available on chippendales.com -- but are quickly selling out. If you are interested, guests of Chippendales are welcome to stay at Mansion nightclub after the show. If you're a birthday girl or a bachelorette you get in for free, but contact them first for details. -- Jipsy