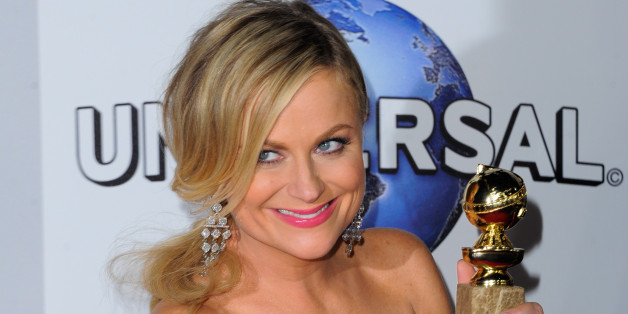 This year, a number of stars were honored with their first-ever Golden Globe award. Some took home a win after years of nominations, while others won on their very first nod, ensuring an emotional and exciting night for nominees and fans alike.
From old favorites to newcomers, check out who won for the very first time this year.
Amy Poehler
Finally! Poehler won the award for Best Actress in a TV Series, Comedy or Musical, for her work on "Parks and Recreation." The 2014 show marked the third year she was nominated for the award, and it looks like third time's the charm. Elated, Poehler quickly stole some kisses from U2 frontman Bono before dashing onstage to collect her award.
Matthew McConaughey

Matthew McConaughey won a Golden Globe with his first nomination, snagging the award for Best Actor in a Motion Picture, Drama for his work in "Dallas Buyers Club." Dressed in an eye-catching green velvet suit, he thanked his fans (and his mother) with a characteristic, "All right, all right, all right!"
Bryan Cranston

It seems unbelievable, but 2014 marked Bryan Cranston's very first Golden Globe win. He was named the Best Actor in a Television Series Drama for his role on "Breaking Bad." This was his fifth nomination for the award. He has also been nominated once for his work on "Malcolm in the Middle."
Jared Leto

Leto brought home an award for Best Supporting Actor in a Motion Picture for his work in "Dallas Buyers Club." Accepting the award, Leto took the opportunity to tell fans that his "tiny little Brazilian bubble butt" featured in the film was prosthetic-free, and that he had waxed his entire body for his role as Rayon. (His speech was later deemed "homophobic" by Salon.)
Andy Samberg

The "Brooklyn Nine-Nine" actor nabbed the award for Best Actor in a TV Series, Musical or Comedy, beating out the favored Jim Parsons and Jason Bateman with his very first nomination. After admitting that he hadn't prepared any talking points, not thinking he would win, Samberg put together a hilariously improvised (yet thorough) acceptance speech.
Amy Adams

Adams has been nominated five times at the Golden Globes, but she received her first win in 2014, being named Best Actress in a Motion Picture, Musical or Comedy for her role in "American Hustle." She gave a tearful acceptance speech and declared to the encroaching music, "You cannot play me out of talking about my daughter" before thanking her little girl for teaching her to "accept joy and to let go of fear."
Robin Wright

Robin Wright didn't win a Golden Globe so many years ago when she was nominated for Best Supporting Actress in a Motion Picture for her work in "Forrest Gump," but she did take the prize on Sunday for Best Actress in a TV Series, Drama for her role in "House of Cards." Like many other winners, she hadn't prepared a speech for the occasion.
Elisabeth Moss

Another unlikely first-timer, Elisabeth Moss took home a Golden Globe for Best Actress in a Mini-Series or TV Movie for her work in "Top of the Lake." Shaking and giggling, she gave a heartfelt speech, in which she dedicated the award to her mother.
Jacqueline Bisset

At age 69, Jacqueline Bisset won her first Golden Globe in 2014, named Best Supporting Actress in a Series, Mini-Series, or TV Movie for her role in "Dancing on the Edge." She may, however, be better remembered for her unusual acceptance speech in which she told the people who have "given her s--t" to "go to hell and don't come back."
BEFORE YOU GO
PHOTO GALLERY
Golden Globes After-Parties 2014