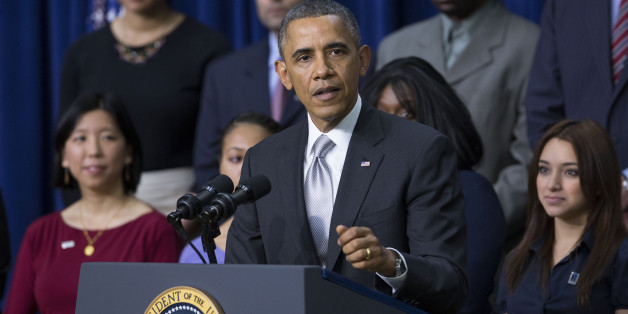 New Ipsos tracking data shows ACA exchange signups growing steadily more healthy. Two new polls show the bridge scandal making little dent in Chris Christie's ratings nationwide. And Washington DC may have a competitive general election for mayor. This is HuffPollster for Tuesday, January 14, 2014.
HEALTH CARE EXCHANGES INCREASINGLY BALANCES BETWEEN SICK, HEALTHY ENROLLEES - Chris Jackson, reporting on results from Ipsos' online tracking survey: "The biggest question that has surrounded the launch of the Affordable Care Act healthcare exchanges is whether they could attract enough 'young invincibles' to make the enterprise financially sustainable. Or, would 'adverse selection' saddle the system with older, sicker customers whose healthcare costs would eventually drive the exchanges out of business?….[Our] data strongly suggests that the earliest adopters – the individuals who fought through the worst of the Healthcare.gov snafus – were disproportionately suffering from major health issues. This makes sense because you would have to be very concerned with your health to deal with that challenges of the first month of the federal exchange website. However, every month since then, the health mix has become more balanced. In the first few weeks of January 2014, our data indicates that the exchanges are actually recruiting more healthy people than sick people. If this trend continues, the exchanges might be sustainable after all." [Ipsos]
What many backers of the program had predicted - Ezra Klein, who notes that the Massachusetts exchanges followed a similar pattern: "No one anywhere expected that the risk pool would be balanced by Jan. 1. Major health laws always follow the same pattern: The people who badly need insurance sign up first, and they tend to be older and sicker. Younger people sign up later -- typically right before the penalty hits." [WaPost]
BRIDGE SCANDAL HAS LITTLE NATIONAL IMPACT ON CHRISTIE - Emily Swanson: "New Jersey Gov. Chris Christie (R) has seen little change in his national favorability ratings since emails were released last week showing that his staff had intentionally caused a massive traffic snarl in a New Jersey town as a form of political payback, according to a HuffPost/YouGov poll. According to the new poll, 38 percent of Americans now have a favorable view of the New Jersey governor, while 34 percent have an unfavorable view. Another 28 percent said they aren't sure. Those figures are virtually unchanged compared to other surveys conducted over the course of the last month….The surveys also found little change in the percentage of Americans who said they had an unfavorable opinion of Christie or in the percentage of Republicans who said they had a favorable opinion." [HuffPost]
Americans split over how much he knew - Bill Trott: "More than 30 percent of Americans believe New Jersey Governor Chris Christie knew that his staff intentionally created traffic jams by partially blocking access to the George Washington Bridge, according to a Reuters/Ipsos poll released on Tuesday. Christie, considered a leading contender for the Republican presidential nomination in 2016, has denied any advance knowledge of the blockage, but only 28 percent of those surveyed believed him. The survey found 31 percent did not believe Christie and 41 percent said they did not know." [Reuters]
DC MAYOR SEES REBOUND IN POPULARITY - A new Washington Post poll finds 51 percent of Washington DC residents now approve of the way their mayor, Vincent Gray, is handling his job, up from 29 percent in mid--2012. Mike DeBonis and Scott Clement: "But doubts about Gray's trustworthiness persist, according to the survey. With just 24 percent of Democratic voters backing him, his opponents still have an opening to unite voters against the incumbent before the April 1 primary. [WaPost]
A competitive general election in DC? - In addition, the survey shows that Gray is not an inevitable winner after the primary. He holds a statistically insignificant edge over D.C. Council member David A. Catania (I-At Large), who is considering a run in the November general election. The close numbers herald what could be the city's most competitive general election for mayor since they began in 1974." Gray's early narrow edge over Catania among registered voters (43 to 40 percent) comes despite a huge advantage in name recognition -- 86 percent of registered voters are able to rate the incumbent, compared to just 51 percent who are able to rate Catania. [ibid, interactive results]
HUFFPOLLSTER VIA EMAIL! - You can receive this daily update every weekday via email! Just enter your email address in the box on the upper right corner of this page, and click "sign up." That's all there is to it (and you can unsubscribe anytime).
TUESDAY'S 'OUTLIERS' - Links to the best of news at the intersection of polling, politics and political data that we missed during our holiday break (starting with a few new items from today:
-Economic confidence levels off at pre-shutdown levels. [Gallup]
-Congressional job approval is still very low. [Gallup]
-Religious hostilities are at a six-year high. [Pew Research]
-70 percent of voters think its bad for the country that most members of Congress are millionaires. [Rasmussen Reports]
-PPP (D) finds Thom Tillis gaining in the Republican primary for North Carolina Senate. [PPP]
-GOP pollster David Winston found Obama now shouldering more economic blame, according to John Boehner. [Politico]
-Boris Shor explains how he Nolan McCarthy quantified polarization in U.S. state legislatures. [WaPost's Monkey Cage]
-A data scientist explains what makes a viral Reddit post. [Business Insider]