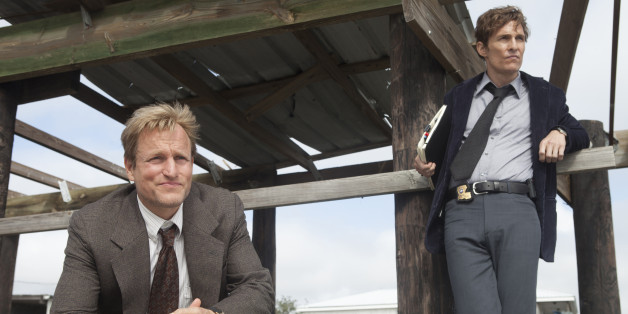 HBO's "True Detective" soared in the ratings when it premiered on Sunday (Jan. 12). Opening to 2.3 million viewers, the new drama starring Woody Harrelson and Matthew McConaughey was the network's best premiere since "Boardwalk Empire" in 2010 (4.8 million).
HBO's Sunday night lineup had competition from the Golden Globes, which was also a ratings win for NBC, but "True Detective" and the "Girls" Season 3 premiere raked in hefty audiences of their own. Lena Dunham's comedy scored 1.1. million viewers, which was a 28 percent jump from its Season 2 premiere. HBO has already renewed "Girls" for a fourth season.
As The Hollywood Reporter points out, HBO shows get big number hikes from HBO Go, OnDemand and encores. When factored in, those numbers boost the premiere of "True Detective" to 3.3 million viewers, and the premiere of "Girls" to 1.6 million.
HuffPostTV's critic, Mo Ryan, called "True Detective" a "frequently spellbinding affair" and a show that asks "thoughtful questions about violence and creat[es] indelible character portraits along the way."
"True Detective" airs Sundays, 9 p.m. EST on HBO.
Take a look at the first photos from "True Detective.
PHOTO GALLERY
"True Detective"