Customize Embed Code TitleWatch: 'When He Cut His Hair, It's All Over' Details_open Size Format Manual Play AutoplayMuted AutoplayWith Playlist
Despite collaborating together throughout the '90s, acclaimed saxophonist Kenny "G" Gorelick revealed on HuffPost Live that he and singer Michael Bolton did not always get along during their heyday.
The pair, who teamed up for hits such as 1992's "Missing You Now" and a live performance of Bolton's hit "How Am I Supposed To Live Without You" at the 1994 Grammy Awards, toured together often. During a sold-out, eight-show run at the Gibson Amphitheatre (then the Universal Amphitheatre) in Los Angeles, Bolton canceled a show.
"So Michael was in the Bahamas or something, and he flew all the way back in the winter to Connecticut. Then he flew all the way, like a midnight flight, to LA," Gorelick explained to host Mike Sacks. "And a singer has to care for his throat, and he lost his voice. So he canceled the show. But it was my show. He was the opening act. So it was my show, but he canceled it."
"And I was really upset that he canceled it, so I said, 'you know, you should take better care of your voice. You have eight shows, you shouldn't be doing all of that flying around. Wait until after the shows are over, then do that.' He didn't like that. He didn't like what I said, so he said some things that were not nice."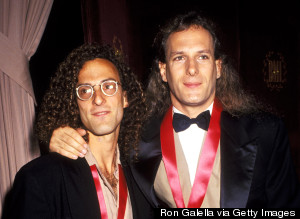 Though they remain friends, Gorelick wasn't shy about which star had the better mane. "When he cut his hair, 'it's all over,' I told him. I said, 'your career is going to go down the toilet as soon as you cut that hair, bro.' I was right."
"This is nice hair," he continued, referring to his signature long curls. "When his hair was this long, it wasn't as nice as mine."
"By the way," he added, "he looks so much better with his hair cut short. If I cut my hair short, it's not going to look good."