It's a new year, and that means it's the perfect time to get hooked on a new show.
We know you probably binge-watched your heart out over the holidays, and your queue is likely overflowing with Netflix's recently added films. But when it comes to being adventurous on Netflix, choosing a new show is harder than it sounds.
You'll begin by scrolling through Netflix's TV section, but shortly feel overwhelmed by the copious options at hand. Indecisive, you'll likely give in and throw on an old "Law and Order" or "30 Rock" to pass the time. But that's the old you, and we're here to introduce you to a slew of shows, recent and old, that you've probably never heard of and that you'll definitely love.
With everything from reality guilty pleasures to epic period dramas to cult comedies, we have the best recommendations that you probably never knew existed. Let the binging commence -- and you're welcome!
Reality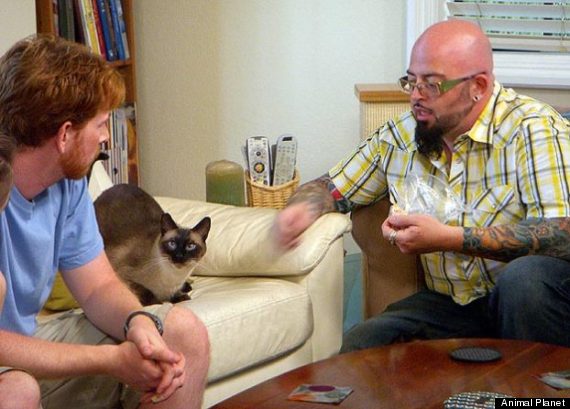 "My Cat From Hell"
If you spend the majority of your time watching cat videos, reblogging cat memes and just generally loving cats, then please meet "My Cat From Hell," your new favorite show. Seriously. This Animal Planet series stars Jackson Galaxy, a self-proclaimed cat behaviorist (yep, that's a thing) with an extravagant goatee, who helps solve conflicts between cats and their owners. He's pretty much a cat relationship therapist and he's amazing at it. You'll also learn a surprising amount of useful tips on how to properly care for cats; the puurfect bundle of education, cuteness and drama.
"Pretty Wild"
"Pretty Wild" gives a look at the daily lives of Alexis Neiers and Tess Taylor, the two adoptive sisters behind the teen Hollywood burglaries. Portrayed by Emma Watson and Taissa Farmiga, respectively, in Sofia Coppola's "The Bling Ring," these two are more idiotic and dramatic than most reality TV stars. Homeschooled by lessons from "The Secret" (it's worth watching just for that), in denial of their involvement in the robberies (they're just such good people), and drugged up on Adderall (by their mother), Alexis and Tess are so obnoxious you probably won't be able to stop watching.
"Who the (Bleep) Did I Marry"
Some of the best guilty pleasure television series are reality shows about weddings and marriage or investigative cop dramas. Combine the two and add a big, juicy, real-life secret and you get "Who the (Bleep) Did I Marry." The show, from the Discovery-owned network Investigation Discovery, follows men and women who discover that their spouse committed a crime while they were married. If that scenario isn't enough to get you intrigued then we're not sure what is.
Fantasy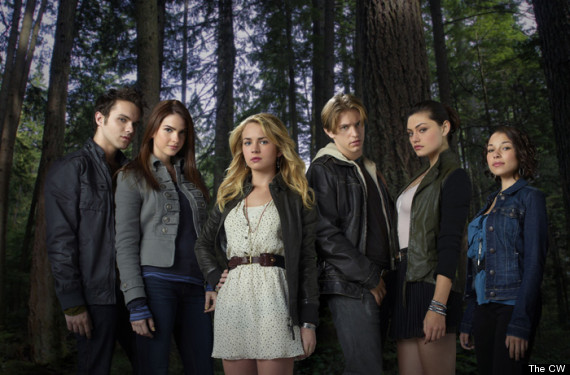 "The Secret Circle"
Described as "Pretty Little Liars" meets "Charmed" meets "The Craft" meets "Gossip Girl" by one Huffington Post editor, "The Secret Circle" is all the magical girl drama you could ask for. The series, which lasted for a full 22-episode season on The CW, starred Britt Robertson ("Under the Dome") as Cassie Blake, a 16-year-old who moves to a new town after the death of her mother. Cassie soon discovers that she comes from a long-line of witches and is the final member of her new classmates' coven. Witches are in ya'll, get with it.
"Merlin"
A handful of series and films have focused on the life of King Arthur, but few have centered on wizard Merlin, and most particularly, on his early life before he became the bearded sorcerer from Disney's "The Sword in the Stone." BBC One's "Merlin" follows the life of the young wizard when he arrives in Camelot at a time when magic is banned, and thus, is forced to keep his sorcery a secret. The series also starred John Hurt as the voice of The Dragon (how epic is that?) and all five seasons are on Netflix for your magical viewing pleasure.
"Goosebumps"
While you may remember Nickelodeon's "Are You Afraid Of the Dark?", you might not have known that another horror fantasy series existed in the '90s. Based on the popular books, "Goosebumps" was made into a Canadian television series so all those spooky stories could come alive on-screen. From "Revenge of the Lawn Gnomes" to "The Haunted Mask" to "Say Cheese and Die," "Goosebumps" is full of fun and creepy nostalgia.
Comedy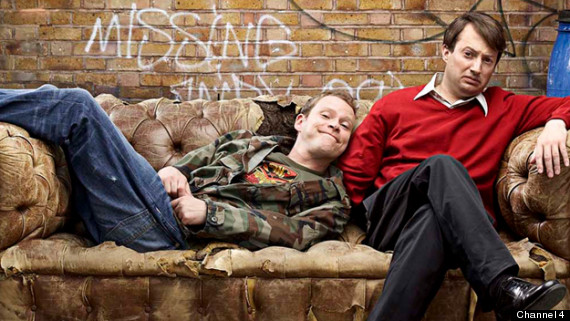 "Peep Show"
This award-winning cult British comedy follows Mark, an employed average guy, and his roommate Jeremy "Jez," an unemployed slacker whose main hobbies include drugs, sex and talking about sex. "Peep Show," which is the longest running series on Britain's Channel 4, is character-driven comedy full of never-ending ridiculous shenanigans. Some standout highlights include Jez poisoning Mark with cold medicine to save a drug party and Jez restraining a burglar by sitting on him. If silly, goofball dude humor is your thing, "Peep Show" will definitely keep you laughing.
"Undeclared"
This cult favorite was Judd Apatow's follow-up to his acclaimed "Freaks and Geeks" and centered on a group of college freshman in the early aughts. "Undeclared" had a cast full of Apatow staples and comedy favorites, including Seth Rogen, Jay Baruchel, Jason Segel, Amy Poehler, Kevin Hart, as well as Charlie Hunnam. Although the show only lasted for one season, it was celebrated as one of the best college shows that avoided cliches. Nothing beats a good ol' 00s throwback with some of today's best comedians before they reached their prime.
"The Increasingly Poor Decisions of Todd Margaret"
This American-British comedy was created by and starred David Cross ("Arrested Development") as the title character, an American who takes a job in London running a two-man sales team for a new energy drink. Each episode opens with Todd in an increasingly bizarre, dire situation and flashes black to how he got there. The show aired for two seasons on IFC and also starred Will Arnett and Spike Jonze.
Drama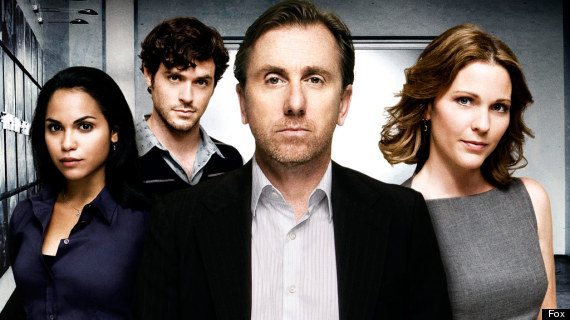 "Lie To Me"
You may have heard of this crime drama that aired on Fox back in 2009 and it may have seemed like another one of those lousy new cop shows to avoid. But trust us, if you didn't watch it, you missed out. "Lie To Me" surpasses the typical catching-the-criminals scenario with one awesome gimmick: applied psychology. The show starred Tim Roth as Dr. Cal Lightman, an expert in body language and reading microexpressions, a.k.a he knows if anyone is lying just by their facial movements and mannerisms. "Lie To Me" adds a refreshing twist to the usual cop procedural and will also teach you how to read people -- seriously, you'll question everyone's lip quivers and eyebrow raises after a few episodes.
"Lip Service"
The Scottish version of "The L Word," BBC's "Lip Service" is the lesbian drama that will (somewhat) satiate your longing for the ladies of West Hollywood. The British series takes place in Glasgow, Scotland and, similar to the Showtime favorite, follows the lives of a group of lesbian friends and their complex relationships and sex lives. The show brought fame to a handful of its actresses in the U.K., but one face you'll probably recognize is Laura Fraser, who played Lydia in "Breaking Bad." Although the series isn't as good as "L Word," it does have a blond Shane-like character, and we figure that's enough to get you watching.
"Spooks"/"MI-5"
"Spooks," also known as "MI-5" in some countries, chronicles the missions of British Secret Service officers, also dubbed "spooks." The series, which ran for 10 seasons on BBC and won multiple BAFTAs, starred Matthew Macfadyen ("Pride and Prejudice"), David Oyelowo ("Lee Daniels' The Butler"), and Peter Firth. Although the final season aired in 2011 in the U.K., the series will continue in the upcoming film "Spooks: The Greater Good."
Period Drama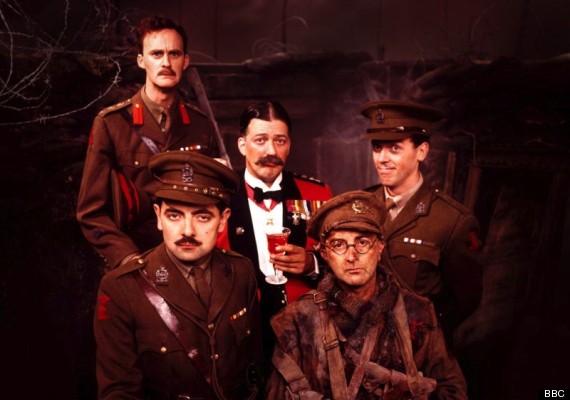 "Blackadder"
This comedic BBC series is comprised of four seasons, each of which take place in a different historical time period. Co-written by Richard Curtis ("Love Actually"), the show stars Rowan Atkinson as anti-hero Edmund Blackadder, who in each season is a member of a British family dynasty. Spanning from the British Middle Ages to World War I, Atkinson's Blackadder characters return each season as descendants of his former characters, each one growing more clever as time goes on. The series also starred Hugh Laurie, Miranda Richardson and Stephen Fry, and had multiple one-off specials.
"Call the Midwife"
This BBC drama set in 1950s London is based on the memoirs of Jennifer Worth, a British nurse, and the midwives and nuns who worked with her at a nursing convent. "Call the Midwife" premiered in the U.S. on PBS in 2012 to much critical acclaim for its cast and poignancy. The first two seasons are available on Netflix and season three will air in the U.K. this year.
"The Forsyte Saga"
Adapted from the novels and the 1967 British series of the same name, "The Forsyte Saga" chronicles a Victorian upper-middle class British family over the course of three generations. The mini-series, which aired for two seasons, starred Damien Lewis of "Homeland" and Gina McKee as Soames and Irene Forsyte. This epic miniseries will certainly please any "Downton Abbey" fan.
Sci-Fi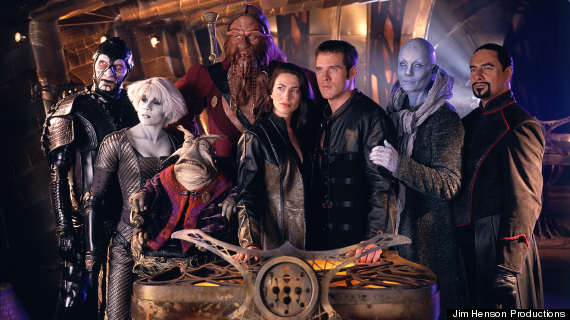 "Farscape"
This Australian sci-fi series from creator Rockne S. O'Bannon follows John Crichton (Ben Browder), an astronaut who is hurled across space through a wormhole. Crichton ends up boarding an alien starship housing a group of fugitives escaping the militaristic organization the Peacekeepers. The Jim Henson Company worked on the make-up for the show, as well as two of the main animatronic characters. All four seasons of "Farscape" are streaming on Netflix for your intergalactic viewing pleasure.
"Alphas"
In "Alphas," a team of superhumans with special neurological abilities are led by Dr. Lee Rosen (David Strathairn). These Alphas, which include an FBI agent with super strength and an autistic man who can process information as fast as a computer, work to prevent crimes from being committed by other Alphas. The SyFy ran for two seasons, both of which are on Netflix Instant.
"Firefly"
Joss Whedon's space drama is set 500 years in the future and follows the adventures of the renegade crew of the Serenity. The show, which won an Emmy for Visual Effects, starred Nathan Fillion, Gina Torres, Alan Tudyk, and Morena Baccarin. Although the short-lived show only lasted for one season, the story continued in Whedon's 2005 film "Serenity."

BEFORE YOU GO
PHOTO GALLERY
The Only Binge-Viewing List You'll Ever Need