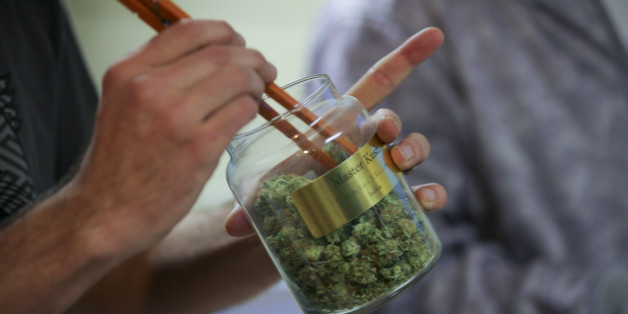 With medical marijuana finally legal in Illinois and officials still wrangling the details of the highly-restrictive law, pharmacists have thrown their hat into the ring of potential pot peddlers.
"It makes perfect sense," pharmacist Joseph Friedman, who wants to open his own medical marijuana dispensary, told the Tribune. "After all, pharmacists are the drug experts."
The problem faced by Friedman and other pharmacists is that, as Capitol Fax notes, their federal licenses prohibit them from dispensing the marijuana, even if it's for medical purposes.
Friedman, of suburban Lincolnshire, Ill., wants to see medical marijuana re-classified as a "Schedule II" substance to enable pharmacists to dispense it legally.
Pharmacists aren't the only ones clamoring for one of the just 60 licensed dispensaries to be allotted statewide: Smoke shops have been trying to get their piece of the pot pie as early as last summer.
There are still others in the medical field, however, who are happy to stay neutral in the land-grab for medical marijuana dollars. As Northern Public Radio noted in August, the Illinois State Medical Society took a "neutral" stance on the matter.
The prominent group's director, Dr. Eldon Trame, wrote in an op-ed, "We have some who feel that it can fill a niche for patient symptoms and complaints. We also have those who are strongly against it."
One group that hopes pharmacists remain on the sidelines of the medical marijuana dispensing action: marijuana advocates like NORML Illinois who favor local growers and retailers.
According to the Tribune, NORML Illinois' executive director doesn't want to see Big Pharma sink its claws into "the potentially multibillion-dollar business" and edge out the little guy.
Rep. Lou Lang (D-Skokie), the sponsor of the Illinois' medical marijuana legalization bill, told the Tribune he had no position on the matter, but gave a nod to the deep expertise that many smaller operators in the business have cultivated.
"While pharmacists certainly are used to dispensing medication, they don't have any particular expertise in this area. Perhaps people who've been in the business in other states have far greater expertise."
BEFORE YOU GO
PHOTO GALLERY
What The Legal Marijuana Industry Looks Like