The Albuquerque Journal has come under fire for placing an advertisement for guns and amunition beside a story covering the school shooting in Roswell, N.M.
Readers came across this page on the New Mexico newspaper's website: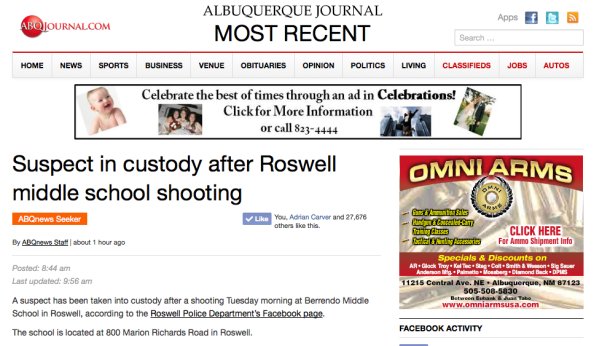 The ad, beside a story about the 12-year-old boy who shot and wounded two classmates Tuesday, offers website visitors sales and discounts on guns, ammunition and training classes.
A similar incident occurred earlier in January when Connecticut newspaper, The Stamford Advocate, ran a very large gun advertisement next to a story about the first day back to school for Sandy Hook Elementary students. The newspaper later apologized for the "insensitive" error.
(h/t: progressnownm)
CORRECTION: A previous version of this article stated that readers came across the ad on Thursday. The article was originally posted Tuesday morning and it is unknown how long the ad remained on the website.
BEFORE YOU GO