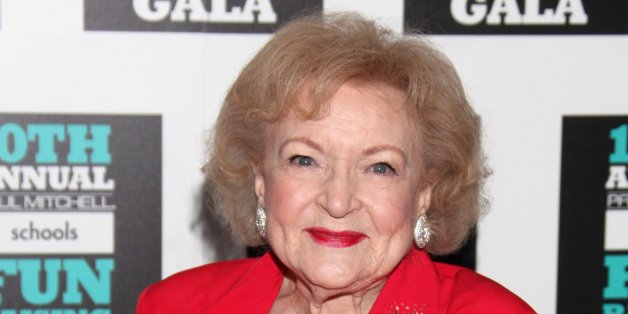 Happy birthday, Betty White! Our favorite TV funny lady turns 92 today and she's showing no signs of slowing down!
Her "Golden Girls" days might be behind her but she's still got plenty going on. She made a major TV comeback in 2010 with her hit show "Hot in Cleveland" . Known for her hilarious one-liners as the clueless Rose Nylund, Betty has kept her naught sense of humor through the years, hosting SNL, spoofing Miley Cyrus' "Wrecking Ball," and starring in a hilarious Super Bowl commercial.
"Retirement is not in my vocabulary. They aren't going to get rid of me that way," White has said. We're glad to hear it!
We asked our Facebook fans what they love about the hilarious nonagenarian as she turns 92 and got a huge response. Here's some of what our fans had to say:
"She is working, healthy, financially secure has her animals and a good sense humor and keeps young attitude," said Sonya Shapiro Murphy.
"She is actually a better actress today than she ever was,and she is having fun with a reality most people dread-she has triumphed" said Dave Luckens.
"She's spunky!" said Beth Greenshields Courrau.
"Amazing sense of humor that doesn't age, and she is adorable to boot!" said Liane Sabina.
We couldn't agree more! We've whipped up our own list of what we love oh-so-much about our favorite Golden Girl.
Many happy returns of the day, Betty!
1) Her one-liners
"If the guy's a cutie, you've got to tap that booty," White famously quipped on an episode of "Hot in Cleveland."
"My only claim to fame is that I'm the only woman in the world who hasn't slept with Tiger Woods," White said.
Oh, Betty.
2) She loves animals.
Here's a title we bet you didn't know Betty had. She's been made an honorary park ranger by the U.S. Forest Service and has worked tirelessly for animal rights. For her 91st birthday last year, she blogged for Huffington Post and asked readers to help raise funds for the Morris Animal Foundation. She's said animals are "near and dear" to her heart. "Animals don't lie. Animals don't criticize. If animals have moody days, they handle them better than humans do," White said.
3) She can hang with the boys.
Betty said even in high school she preferred the company of guys not girls--and we can see why. The spunky nonagenarian showed she can play with the best of them in a 2010 Super Bowl commercial.
4) She won't let age slow her down.
"I never thought about age much," Betty told AARP. "I learned that at my mother's knee. Age was not important. It was where your head was."
At 92, she's defying odds and even setting a couple records. She's the oldest person to ever host SNL, she's the oldest Emmy winner in history, and she's even made it into the Guinness Book for the "Longest TV Career For A Female Entertainer." You go, girl!
5) Her views on gay marriage.
"I don't care who anybody sleeps with. If a couple has been together all that time—and there are gay relationships that are more solid than some heterosexual ones—I think it's fine if they want to get married. I don't know how people can get so anti-something. Mind your own business, take care of your affairs, and don't worry about other people so much," White told Parade.

6) She's tweeting up a storm.
Betty joined twitter in April 2012 and with only 50-some tweets, she's already up to over a million followers! She's clearly mastered the social media tool, using it to be her usual suggestive self and has even made a pass at Ryan Seacrest. Follow her
@BettyMWhite
and try to keep up.
Hey @RyanSeacrest - my new show airs tomorrow and I hear we're in the same time slot. I've always dreamed of sharing a night with you...

— Betty White (@BettyMWhite) April 10, 2012
How about our HOT LA playoff teams! #Lakers, #Clippers, #Kings- Can't remember this much action since MY early 80s…

— Betty White (@BettyMWhite) May 9, 2012
7) She's a prankster.
"I'm a teenager trapped in an old body," Betty has said. And she definitely hasn't lost her teenage sense of humor. In a more mature version of the hidden-camera, practical joke show Punk'd, White started hosting "Off Their Rockers" just around her 90th birthday. White and her crew of senior pranksters set off to set up unsuspecting youngsters in a series of practical jokes.
"What's fun about it I think is the fact that the older people get the jump on the younger ones for a change," White said.
8) The girl can move.
She's busted a move with pop artist Psy doing the fames "Gangnam Style" dance in a TV promo and got "low" to hip-hop music at the Teen Choice Awards. But she went one further and made her own music video called "I'm Still Hot," with pop artist Luciana. "I'm smokin hot in the world...I'm still a golden girl...I may be a senior so what...I'm still hot," Betty raps.

9) She can be naughty.
She's openly confessed to her crush on Robert Redford, saying ""I don't have a fella, but if Allen--or Robert Redford--were around, we'd have a very active sex life. Does desire melt away with age? I'm waiting for that day to come. Sexual desire is like aging--a lot of it is up here [points to her head]."
10) She's so darn cute.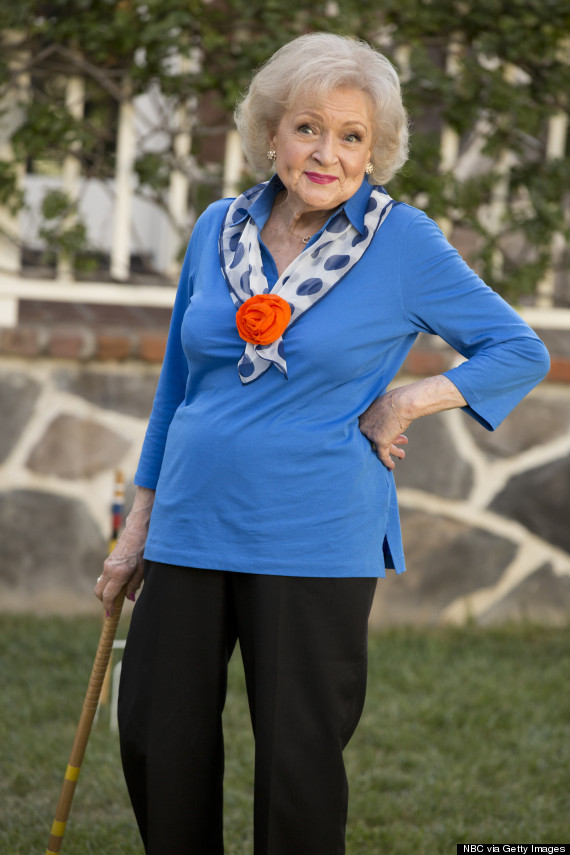 BEFORE YOU GO
PHOTO GALLERY
Top 10 Betty White Quotes