An NBC News affiliate in St. Louis, Mo. caused a high school lockdown Thursday while going undercover to report on school safety, resulting in major outcry from parents and staff against the network.
Kirkwood High School went into lockdown an hour after a KSDK NewsChannel 5 photographer reportedly entered the building, left his number and then quickly left after asking for security. The NBC News station later confirmed that the man was a reporter covering a story on school safety by attempting to enter five school buildings in the St. Louis area.
The school district's spokesperson Ginger Cayce told FTV Live that she tried three times to call the unknown visitor before initiating the lockdown.
"I told them 'I'm going to have to go into lockdown if you can't confirm that this was a test,'" she explained. "When we couldn't confirm or deny it, we had no choice."
As a result, parents and residents were outraged: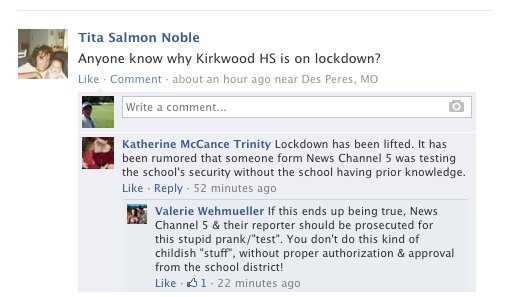 "When I found out it was KSDK, I was and still am livid," one parent said.
Fourteen-year-old high school student Caroline Goff also spoke with FTV Live about the experience.
"We were really scared, but we were all trying not to show it," she said. "My teacher told our class that he would step in front of the person and let us all leave.... We were scared that something was going to happen to us, like at Sandy Hook."
"This lock down certainly was not the intent of our visit.... NewsChannel 5 will continue to be vigilant when it comes to the safety of our schools and your children within."
BEFORE YOU GO
PHOTO GALLERY
The Murdochs