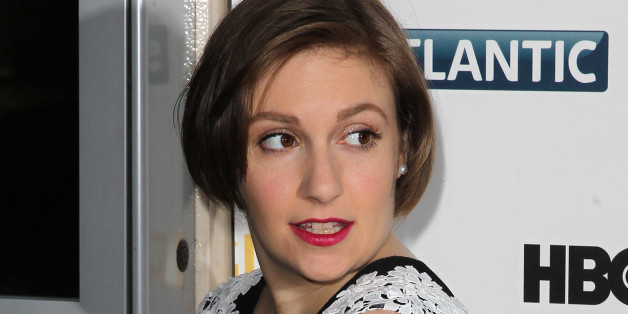 The week of Lena Dunham took a turn for the absurd on Thursday, when Jezebel offered $10,000 for un-retouched photos from Dunham's Vogue cover shoot. The cover was released Wednesday to near-universal admiration, with the predictable close crop shot, the presence of a decent amount of retouching, and the absence of an arm duly noted.
But when Jezebel demanded the original photos be released in order to expose the "rich and storied history of distorting women's bodies," women's media exploded. HuffPost's Inae Oh wrote that the "bounty" is seriously misguided, as did Salon's Roxane Gay, while others agreed that shaming Vogue at Dunham's expense would do women a great service.
Late Thursday night, Dunham took to Twitter to address the issue:
Some shit is just too ridiculous to engage. Let's use our energy wisely, 2014.

— Lena Dunham (@lenadunham) January 17, 2014
Brilliantly said, Lena.
Jezebel obtained and later published the untouched images Friday morning -- and they are totally unremarkable. Beyond the typical enhancements we have come to expect, Lena Dunham sans photoshop looks like the perfectly attractive Lena Dunham we see on HBO every Sunday night. What a waste of $10,000.
UPDATE: 1/17 12:30 p.m.: In response to Jezebel's accusation that a pigeon was insincerely photoshopped onto Dunham's head, Vogue tweeted an image proving that, in fact, this pigeon, real or fake, actually did consider Dunham's head a worthy resting point.
UPDATE: 1/17 4:29 p.m.: Dunham spoke to Slate France reporter Charlotte Pudlowski on Friday afternoon. The actress said she understood that "there is a contradiction between what I do and being on the cover of Vogue." She also said:
I haven't been keeping track of all the reactions, but I know some people have been very angry about the cover and that confuses me a little. I don't understand why, photoshop or no, having a woman who is different than the typical Vogue cover girl, could be a bad thing.
Dunham also spoke to an oft-cited trope amid the controversy: That Vogue -- to the knowledge of its readers and the broader public -- represents a fantasy. Her advice to those who demanding to see the real Lena Dunham, un-airbrushed? "If they want to see what I really look like, go watch the show that I make every single week," she told Slate France.
Visit Slate.com for the entire statement.
CORRECTION: This article originally spelled Roxane Gay's name incorrectly.
BEFORE YOU GO
PHOTO GALLERY
Meet Our Body Image Heroes