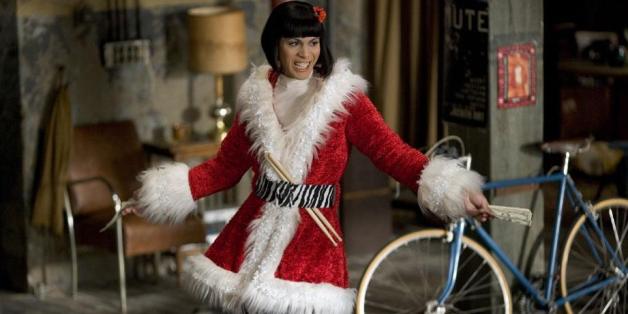 "Rent" is coming to Netflix on Jan. 19 and that can only mean one thing: it's time to go out to dinner and order a "five miso soup, four seaweed salad, three soy burger dinner, two tofu dog platters and one pasta with meatless balls" with no intention of paying! Just kidding. Pay for your meals, always. But also get really excited about watching "Rent"! Here are exactly (okay, not exactly) 525,600 reasons why this streaming addition is the best thing ever.
"Rent" helps you to express yourself ...
... and to stand up for yourself (literally).
It adjusts the meaning of family to include best friends ...
... and redefines the traditional understanding of the perfect couple.
It creates a world in which you can skip out on your (probably $2,000-a-month) rent ...
... or burst into a fully choreographed subway dance and not even remotely bother your fellow passengers.
It values individuality, in celebrating every personality type ...
... from the exhibitionist ...
... to the introverted observer.
It helps you remember over 525,551 things that are truly important in life ...:
... and now you can watch it instantly, just by hitting play.
Don't forget to grab some wine and beer.
BEFORE YOU GO
PHOTO GALLERY
Celebrity News & Photos