The first weekend of Sundance is kind of like starting a new job over and over again every year. You can figure out where to be and what to wear, but you don't know any of the details. At Sundance, we don't know which films will live up to the pre-festival hype, which will quickly deflate and which might sneak under the radar and explode like confetti in the sky after the first screening. As the years stack, you learn to keep an open mind and a fluid schedule so that you can jump on the next "Beasts Of The Southern Wild" or "Fruitvale Station" as soon as possible.
Here are three films from the opening weekend of Sundance that caught our eye -- not only for the filmmaking, but for the dazzling movie stars in them:
"Laggies"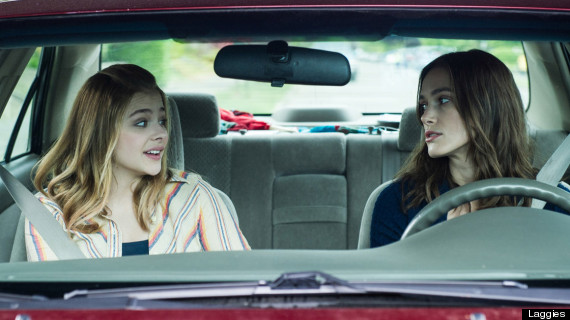 It takes a hell of a lot to get someone excited for an 8:30 a.m. screening on a Saturday morning, but Sundance queen, filmmaker Lynn Shelton ("Humpday," "Your Sister's Sister"), did exactly that. Billed as a coming-of-age story starring Keira Knightley, Chloë Grace Moretz and Sam Rockwell, I figured the coming-into-age would center on Moretz, 16. Instead, it's a quarter-life-crisis kind of movie that leaves our hearts pounding for Keira Knightley in a way that we haven't quite experienced since "Bend It Like Beckham." The late-20s drifter she plays is lost, certainly, but is also full of grace, kindness and love. After becoming engaged to her high school boyfriend, she puts off eloping and instead takes a week on her own (after lying about going to a conference) and spends it with unlikely new friends: a teenage girl and her lawyer father -- played by a compelling and understated Sam Rockwell.
Accompanying the teenage Moretz to visit her estranged mother (played by a spot-on Gretchen Mol), Knightley inspires the most compelling line of the film. Mol, in speaking about herself as a mother, says, "You treat somebody bad enough, you just assume they'll be happy to let you go." Director Lynn Shelton's finesse with dialogue, body language and her character's ranges is a staple of why she dominates Sundance.
"Locke"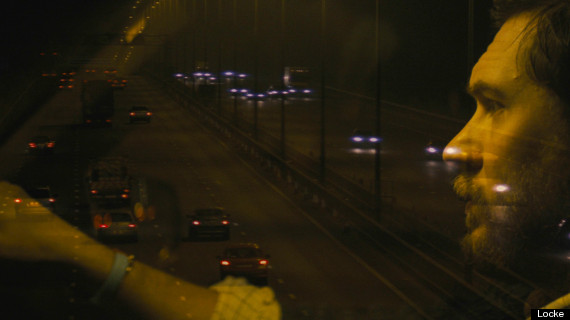 Sitting quietly inside a movie theater in an exercise in human patience. The performances, action, cinematography and score can inspire movie patrons to laugh, cry, sit on the edge of a seat or sometimes, even fall asleep. Sitting inside a quiet movie theater can feel claustrophobic, especially if the film focuses on themes of isolation -- either physical or emotional, or both.
Filmmaker Steven Knight, who previously wrote 2007's thriller "Eastern Promises," takes on a challenging attempt at isolation filmmaking. "Locke" is 85 minutes of a man driving through the outskirts of London. That is it. This man, Ivan Locke, played by the ever-intense English actor Tom Hardy ("The Dark Knight Rises," "Inception") is our sole focus; our everything. While driving, Locke makes a series of phone calls (in a soothing, lullaby-ish Welsh accent) to characters we grow to know more about. Slowly, we begin to piece together where Locke is driving, what he is leaving, and how his actions threaten the very fibers of his identity as a man.
I'll never forget someone telling me that the 2010 thriller "Buried" was 95 minutes of Ryan Reynolds in a box. Mystified that people were loving the film, I went to see 95 minutes of Ryan Reynolds in a box -- and it was incredible. More recently, Sandra Bullock shot off into space and spent 91 minutes (a little less if you count George Clooney's scenes) alone in the deep, dark, black theater of the universe.
Isolating a character for the entirety of a film in a single object ("Buried": a box, "Gravity": a space shuttle, "Locke": a BMW) truly tests he power of a film's narrative. Locke becomes increasingly distressed the longer he drives, and his internal dialogue, much like Reynolds' and Bullock's, gets turned inside out as we get to witness an emotionally compelling and surprisingly suspenseful journey.
"Frank"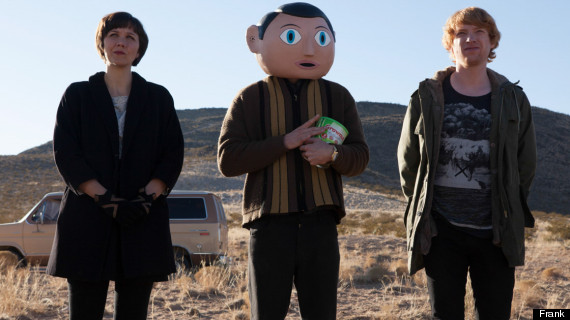 At a sold-out premiere of "Frank" Friday night at the biggest theater in Sundance, we were told that never has the festival tracked, followed and waited for a project to come to fruition like they have for "Frank." Starring Michael Fassbender (wearing a giant fake head), Maggie Gyllenhaal and the likable newcomer Domhnall Gleeson ("About Time"), this film is one of the strangest to screen at Sundance.
Gleeson plays a questionably talented keyboardist who fatefully crosses paths with the questionably insane Frank (Fassbender) and the questionably violent Clara (Gyllenhaal) -- two members of an eccentric pop band about to record an album. After locking themselves away in a remote cabin, the band attempts to make art and instead spends most of their time building bizarre instruments and trashing rooms in violent, short-bursted fits. The biggest enigma of the film is Frank. Why does he wear the fake head, what does he look like underneath, and why -- why -- would someone cast the handsome Michael Fassbender in a film and then cover his face the whole time? These questions and others arise in the off-beat but strangely endearing film that had audiences laughing in true Sundance fashion. A quick turn to darker beats grounded the film's ending in a cloudy question about mental illness and the masks we all wear.
Sasha Bronner is the Los Angeles editor at The Huffington Post. You can contact her directly on Twitter.
For thoughts on "Whiplash," "Camp X-Ray" and "Hellion," click over to Mike Ryan's review here.
BEFORE YOU GO
PHOTO GALLERY
Sundance Film Festival 2014