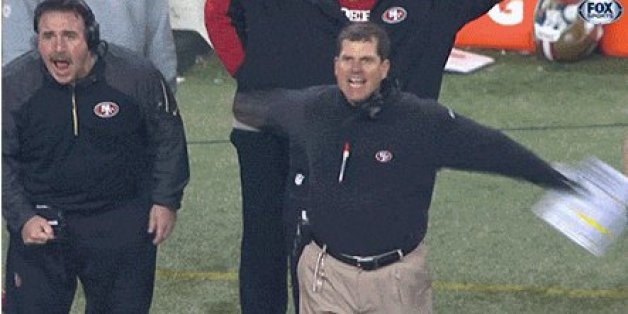 If future historians ever discover that an NFL football game immediately preceded the Richard Sherman Event they will find that the Seattle Seahawks' cornerback had a good reason to be so emotional: The NFC Championship Game contested on Jan. 19, 2014 between Sherman's Seahawks and the San Francisco 49ers was a thrilling, back-and-forth NFL classic. At turns brutal and beautiful, the title tilt was compelling from the first offensive snap right through the final minute when Sherman used his awareness and athleticism to seal his team's spot in Super Bowl XLVIII.
From Marshawn Lynch's "Beast Mode" touchdown run and Colin Kaepernick's jaw-dropping jump pass touchdown to Erin Andrews' reaction to Sherman's post-game rant, here are the 13 GIFs you need to see from the Seahawks' 23-17 win over the 49ers.
WATCH: Russell Wilson Fumbled On First Play
(GIF via @shamburger1)
LOOK: Fans In Lime Suits Were Still Happy
(GIF via @SBNationGIF)
WATCH: Wilson Channels 'Johnny Football'

(GIF via @BuzzFeedSports)
WATCH: Marshawn Lynch 40-Yard Touchdown Run
(GIF via @BuzzFeedSports)
WATCH: Lynch's "Business Casual" Touchdown Celebration

(GIF via @stankey)
WATCH: Golden Tate Could Not Taste The Rainbow

(GIF via @xmasape)
WATCH: Novarro Bowman Suffered A Gruesome Injury On Controversial Fumble
(GIF via @SBNationGIF)
WATCH: Jim Harbaugh Is Not Happy
(GIF via @shamburger1)
WATCH: Colin Kaepernick's Jump Pass Touchdown Was Powerful Magic
(GIF via @SBNation)
WATCH: Wilson Finds Jermaine Kearse For Go-Ahead Touchdown

(GIF via @gifdsports)
WATCH: Richard Sherman's Acrobatic Deflection Sets Up Win-Sealing Interception
(GIF via @BuzzFeedSports)
WATCH: Pete Carroll Is Strutting To New Jersey
(GIF via @xmasape)
WATCH: Erin Andrews Reacting To Richard Sherman

(GIF via @Jessica_J)
CORRECTION: An earlier version of this story misidentified Seahawks wide receiver Golden Tate as Seahawks wide receiver Doug Baldwin. It is entirely possible that Baldwin could have successfully caught those Skittles.
BEFORE YOU GO
PHOTO GALLERY
PHOTOS: 49ers vs. Seahawks