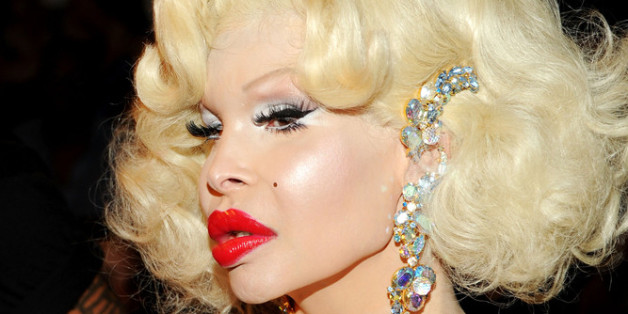 Transsexual nightlife icon Amanda Lepore recently sat down with Into The Gloss to discuss her career, transitioning and her rise to prominence as a staple of New York's downtown club scene.
While highlighting her idols when she was younger and transitioning, Lepore made an interesting connection between transgender self-identification and the self-invention of Marilyn Monroe.
Rather than emulate the girls I grew up with who made fun of me, I decided I wanted to look like a movie star. It was like an escape. I did so much research, reading books and watching movies about Jean Harlow, Marilyn Monroe, and all of those Hollywood blondes with the boobs, the hips, and the heels. Everything was so exaggerated. Marilyn even had plastic surgery in the '40s -- a nose job and had her hairline done, and it was a total transformation. Not so different than a transsexual, really. She made herself into what she wanted to be.
Lepore initially rose to prominence while serving as a muse for photographer David LaChapelle. She frequents New York's biggest parties throughout the week and released a full-length debut album titled "I... Amanda Lepore" in 2011.
Over the course of the past year, conversations surrounding transgender identity have moved into the mainstream thanks to the coming out of Chelsea Manning and the efforts of transgender actress and activist Laverne Cox, among others. The term "transgender" serves as an umbrella term for an entire spectrum of approaches to gender and gender identities and Lepore herself complicates the notion of what trans identity can mean through her own self-identification.
"[David LaChapelle] would always tell me that I was 'the number-one transsexual in the world with a fully functional vagina,'" Lepore told Into The Gloss. "I became really proud of it. It wasn't about trying to pass for a woman -- I am anti that. I think it's what set me apart from other transsexuals. It could have gone very wrong but instead it went right."
To read the interview in full with Lepore on Into The Gloss, head here.
BEFORE YOU GO
PHOTO GALLERY
15 Things To Know About Being Transgender By Nicholas M. Teich