If you walked around the Hasidic section of Williamsburg in Brooklyn last year, you might have seen signs like this in the windows of several storefronts: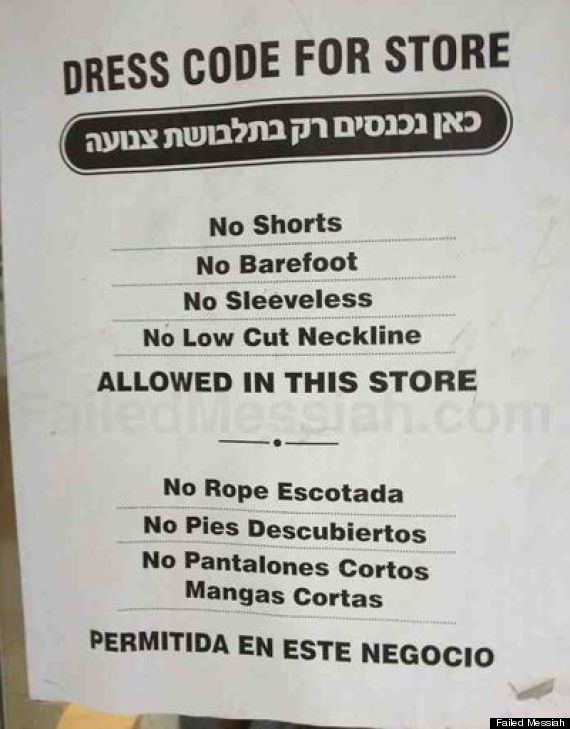 Photo courtesy of Failed Messiah
The controversial dress code-- which bars anyone with "low-cut necklines" or "sleeveless" shirts from entering an establishment-- prompted a lawsuit from the New York City Commission on Human Rights last year. The signs, the lawsuit claimed, specifically targeted and discriminated against women. Owners of the seven stores listed in the suit, however, argued that the signs were gender neutral.
On Tuesday, The New York Daily News reported that the city has settled with the business owners just days before both sides were to meet at trial.
"Representatives from the stores agreed that if they were to post new signs in their windows, they would say that while modest dress is appreciated, all individuals are welcome to enter the stores free from discrimination," Human Rights Commissioner Patricia Gatling said in a statement.
Attorneys for the businesses said they were still drafting language for the new signs.
After the lawsuit was filed last year, Shalom Cooper, manager of Glauber's Cuisine, defended the signs. "We have our way of life, and this is the way we want everyone to respect that," he told The New York Post .
This isn't the first time a sign in the Orthodox Jewish neighborhood has sparked controversy. Illegal signs posted to trees in 2011--as shown here by Failed Messiah--told women to step aside on the sidewalk to allow Hasidic men to pass.