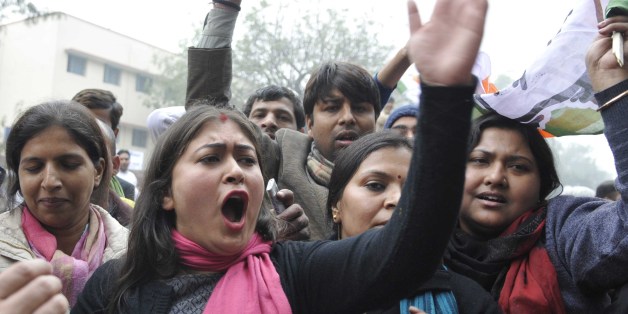 In India, a new female-friendly handgun has sparked renewed scrutiny over how women can protect themselves from sexual violence.
Made by the state-run Indian Ordnance Factory, the gun is named Nirbheek or "Fearless" in Hindi, a synonym of Nirbhaya, the nickname given to the young woman whose fatal gang rape in December 2012 prompted national outcry. The BBC reports that the .32 caliber, 500-gram revolver comes in a maroon jewelry case and fits in a woman's purse.
While the Nirbheek is billed by its makers as a "valuable contribution to women's safety," opponents have criticized the product as a dangerous gimmick, adding that the choice of the name shows poor taste.
Talking to The Independent, Binalakshmi Nepram of the Manipur Women Gun Survivors Network said her group's research found that a woman in an incident was 12 times more likely to be killed if she was carrying a gun.. Nepram slammed the Nirbheek revolver as "an abhorrence to [the Delhi student's] memory."
Forbes notes that the gun's manufacturer already has 100 orders -- three-quarters of them from female customers. However, don't expect to find India awash with gun-toting women any time soon. As CNN explains, at 122,000 rupees (around $2,000), the Nirbheek costs more than India's per capita income of around $1,410. "It's not for poor women," the factory manager admitted.
Both the deterrent cost and stringent gun regulations mean India has a relatively low rate of gun-ownership, according to NPR. Although women were said to be rushing gun permit offices in Delhi in the aftermath of the December 2012 gang rape, India has no legal right to bear arms and gun permit applicants must demonstrate a valid reason to own a firearm, according to gunpolicy.org.
In addition, woman have argued there are plenty of easier changes that would improve women's safety, like free self-defense training, police deployment on public transport and better CCTV coverage, according to a report by The Times of India.
BEFORE YOU GO
PHOTO GALLERY
4 Sentenced In Gang Rape Case