When we get a fever or a headache, we take something for it or visit an experienced doctor who can help us out. But it wasn't always like that.
As seen in a series of artwork recently released by United Kingdom photo library Wellcome Images, patients suffered from some of the same maladies without medication or reliable medical advice.
Adding to its growing collection, Wellcome this week unveiled 100,000 pictures illustrating the history of medicine dating back some 2,000 years.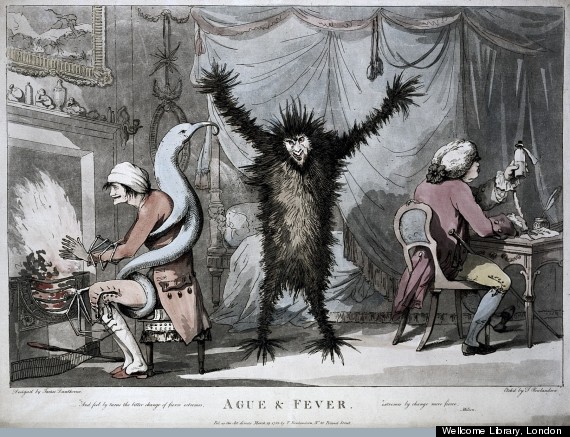 Fever, represented as a frenzied beast, stands racked in the center of a room, while a blue monster, representing ague, ensnares his victim by the fireside. A doctor writes prescriptions to the right. Colored etching by T. Rowlandson after J. Dunthorne, 1788. (Wellcome Library, London)
"Together the collection amounts to a dizzying visual record of centuries of human culture and our attempts to understand our bodies, minds and health through art and observation," Wellcome Library head Simon Chaplin said in a statement.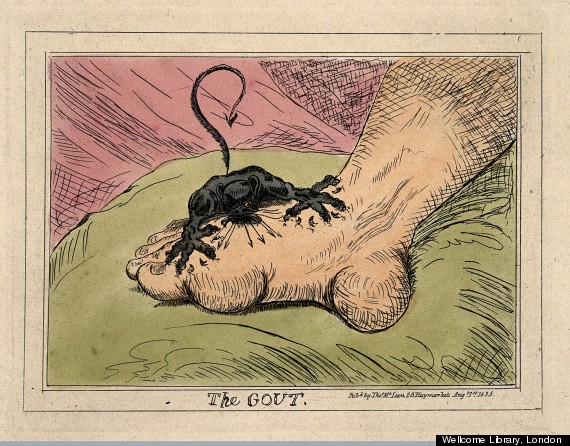 A swollen and inflamed foot. Gout is represented as an attacking demon. Colored etching, 1835, after J. Gillray, 1799. (Wellcome Library, London)
While the newly released photos, which are freely available online, include work from the likes of Vincent van Gogh and Michelangelo, some of the most striking pieces are from the caricaturists.
See a selection of some of Wellcome Images' collection in the gallery below.
PHOTO GALLERY
The History Of Medicine