 Minicars, also known as subcompacts or minicompacts for their small size and interior volume of less than 99 cubic feet, are cute, efficient and generally inexpensive. But according to testing by the Insurance Institute for Highway Safety, they're also generally unsafe.
The IIHS tested 11 minicars in its small front overlap test, during which the impact is relegated to 25 percent of the car's front-end so as to mimic real-life scenarios where drivers attempt to swerve out of the way of a head-on collision but still end up hitting the oncoming object. The results are not comforting.
With the exception of the Chevrolet Spark minicar, which was given the institute's second-highest marking of "acceptable," every other car tested received scores of "marginal" or "poor" -- the second-worst and worst scores, respectively, that the IIHS gives.
(Story continues below.)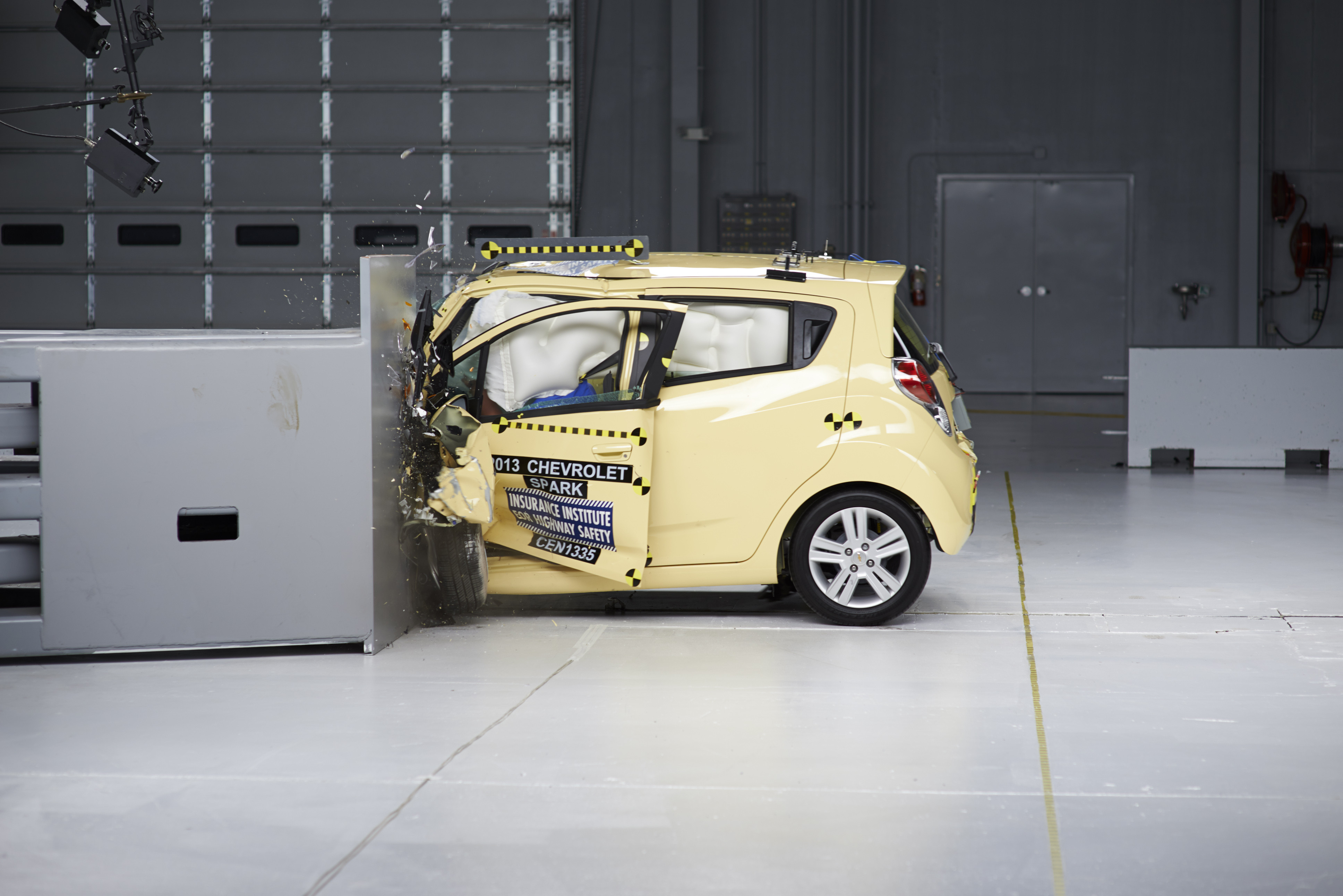 The Chevrolet Spark is tested for safety by the IIHS.
The IIHS specifically calls out the Honda Fit and Fiat 500 as the two worst performers. The Fit's airbags provided inadequate protection, and the 500's door tore off of its hinges, compromising the safety of the passengers and their ability to remain in the car during a collision. Honda has an all-new Fit coming out for 2015 that may address these issues; however, a rep for the company did not immediately comment about the vehicle to The Huffington Post.
Other minicars tested by the IIHS included the Mazda2 (the only car beside the Spark to pass the institute's restraints and kinematics tests, which assess whether the car's safety belts and airbags provide proper protection during impact), Kia Rio, Toyota Yaris, Ford Fiesta, Mitsubishi Mirage, Nissan Versa, Toyota Prius C hybrid and Hyundai Accent.
The IIHS is quick to note in its press release that minicars in general, including the Chevrolet Spark, are generally less safe due to their light weight. Full results of the IIHS' testing are below. Nevertheless, if you're interested in a minicar that's cute, efficient, cheap and generally safe, IIHS testing supports that the Chevrolet Spark might be your best choice.