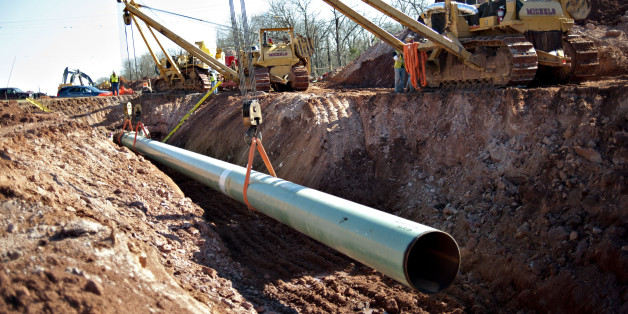 By Scott Haggett and Nia Williams
CALGARY, Alberta, Jan 22 (Reuters) - TransCanada Corp on Wednesday began delivering crude through a major new pipeline from Oklahoma to the Gulf Coast, commissioning a $2.3 billion project expected to help eliminate a bottleneck that has warped the U.S. oil market for three years.
For company officials, the launch of the 700,000-barrel-per-day conduit -- originally conceived as the southern leg of the contentious Keystone XL line from Canada -- was a chance to claim a milestone in the drive toward reducing U.S. reliance on foreign oil, hailing the project for delivering cheaper crude to Gulf refiners and creating thousands of U.S. jobs.
For oil traders, the line from the bloated Cushing crude oil storage hub to the cluster of refineries on the Gulf Coast of Texas is a major step toward erasing the yawning gap between depressed inland domestic crude oil prices and the much higher global prices paid on the coast.
Above all, it was an opportunity to vent TransCanada's mounting frustration over its main Keystone XL line, which, more than five years after the initial filing, is still awaiting a final decision from the Obama Administration.
"As we bring Gulf Coast into operation, again showing people this isn't an export pipeline and (will be) operated safely, that should provide the base underpinning and evidence that Keystone XL is at the end of the day just another piece of energy infrastructure," Russ Girling, TransCanada's chief executive, told reporters. "It is just a pipeline and it can be built and operated safely."
REFINERS' REJOICE
In practical terms, the start-up of the Gulf Coast Project will give Canada's oil sands producers their first large-scale access to the refining hub on Texas' Gulf Coast. Only one other major line -- the 400,000 bpd Seaway -- runs from Cushing to the Gulf, and it has been pumping at well below capacity.
TransCanada said its pipeline will initially ship 300,000 bpd, rising as the company tests its new system. Alex Pourbaix, president of the company's pipeline division, said he expects that shipments will average 520,000 bpd over 2014.
The company has already begun construction of a lateral line to Houston that is expected to be in service later this year. When the lateral is complete, TransCanada will be able to boost the capacity of the Gulf Coast line to 830,000 bpd.
The line should eventually help lower stocks at Cushing, the pricing point for the New York Mercantile Exchange's West Texas Intermediate (WTI) contract, North America's benchmark oil price. A surplus of crude at the storage hub has depressed U.S. oil prices, with WTI trading well below crudes priced on the European Brent benchmark.
It may also help alleviate steep discounts on Canadian crude, which dropped to more than $40 per barrel below the WTI benchmark in November.
"It should strengthen WTI a little bit because it will further relieve the bottleneck in getting crude from Cushing, Oklahoma, to the U.S. Gulf Coast," said Patricia Mohr, commodity market specialist at Scotiabank.
KEYSTONE SPARRING
Meanwhile TransCanada and environmental groups continue to spar over the line's safety and whether the crude will be destined for export markets. In theory, if certain conditions are met, shippers could seek permission to export Canadian crude oil via Gulf Coast ports, experts say.
"President Obama made the wrong decision to fast-track this export pipeline and citizens will keep TransCanada accountable for every leak, spill and tragedy on families' land and water," Jane Kleeb, executive director of Bold Nebraska, said in a statement.
And once Canadian pipeline giant Enbridge Inc starts up its 600,000 bpd Flanagan South pipeline later this year, more heavy Canadian crude will flow into Cushing and down to the largest U.S. refining hub along the Gulf Coast, where refineries are largely configured to run heavy oil.
"It shows that with or without Keystone XL's northern leg, Gulf Coast refineries will be processing heavy Canadian crude," Bill Day, spokesman for Valero Energy Corp, the largest U.S. refiner, said. "There's just such a market demand for it, it's going to get here one way or the other."
Valero is also among the Gulf Coast refiners seeking to increase access to Canadian crude via rail. The company plans to start up a Canadian crude offloading facility at its 205,000 bpd St. Charles refinery in Norco, Louisiana, in the first quarter this year and is considering a similar project at its 290,000 bpd refinery in Port Arthur, Texas.
TransCanada shares were up 43 Canadian cents to C$48.90 by mid afternoon on the Toronto Stock Exchange.
BEFORE YOU GO
PHOTO GALLERY
Keystone XL Protests