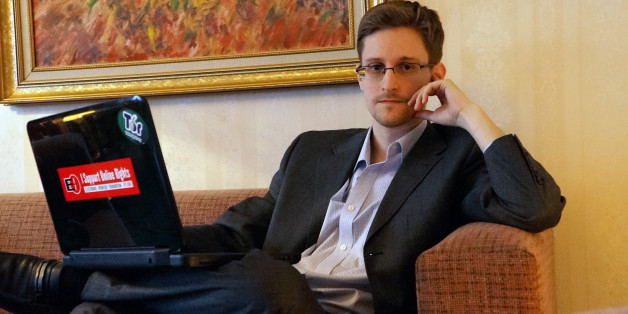 Americans are glad they know the NSA secrets Edward Snowden leaked, but most want him to stand trial anyway. Most agree that income inequality is a problem, but partisans go their separate ways on how to respond. And ℑ (we'll explain later). This is HuffPollster for Thursday, January 23, 2014.
MOST WANT SNOWDEN TO STAND TRIAL - CBS News: "Most Americans – 61 percent - think Snowden should have to stand trial in the United States for his actions. Far fewer – 23 percent - think he should be granted amnesty. Republicans, Democrats, and independents all agree on this as well. Meanwhile, 31 percent approve of Snowden's actions, while most, 54 percent, disapprove. Majorities of Republicans, Democrats, and independents disapprove. Americans are divided as to the impact on the country from making the NSA program public. While 40 percent think the disclosure has been good for the country, 46 percent think it has been bad...Americans have become more skeptical in the last few months about the need for the government to collect the phone records of Americans in order to help find terrorists. Now public opinion is divided: 47 percent think this is necessary, while 48 percent think it is not. Last July, a slight majority thought it was necessary." [CBS]
But Americans are glad he revealed government secrets - Dana Blanton: "A sizable majority of voters are glad they now know the federal government's collecting phone and email records of everyday Americans -- a secret until National Security Agency leaker Edward Snowden gave classified agency documents to the media...The poll asks voters to set aside how they feel about Snowden and his crime, and simply consider whether they are glad the information was made public. By a 68-25 percent margin, voters say yes, they are glad to know how these programs affect Americans like them. Most Republicans (69 percent), independents (68 percent) and Democrats (68 percent) are pleased to be aware of the NSA's activities. Among those part of the tea party movement, 75 percent are glad….In general, 61 percent don't trust the federal government to keep their personal information confidential, and 67 percent don't trust a third party to do so either -- even when rules are established to limit the government's access to it." [Fox]
Obama's approval rating remains mixed - CBS: "Less than a week before President Obama gives his State of the Union address, the president's job approval rating is mixed: 46 percent approve, and about the same percentage, 47 percent, disapprove. Over the past year, his approval rating has mostly hovered in the mid 40s and has not hit the 50 percent mark since February of last year. His 46 percent approval is up four points from December (42 percent) and up from his all-time low of 37 percent in November. As the president begins his sixth year in office, his approval rating is slightly higher than that of George W. Bush at a similar point in his presidency (42 percent approval in January 2006), but lower than the ratings of both Bill Clinton (56 percent in January 1998) and Ronald Reagan (65 percent in January 1986)." [CBS]
GALLUP REPORTS DROP IN UNINSURED RATE - Ricardo Alonso-Zaldivar: "The nation's uninsured rate dropped modestly this month as the major coverage expansion under President Barack Obama's health care law got underway, according to a closely watched survey released Thursday. The Gallup-Healthways Well-Being Index found that the uninsured rate for U.S. adults dropped by 1.2 percentage points in January, to 16.1 percent. The biggest change was for unemployed people, a drop of 6.7 percentage points. That was followed by a 2.6 percentage-point decline for nonwhites. Traditionally both groups are far more likely to be uninsured than the population as a whole." [AP, Gallup]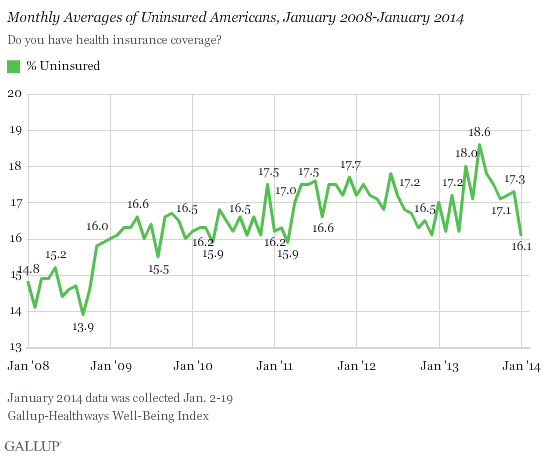 Is the 1.2 percent drop is statistically significant? - The Gallup analysis reported that its early January sample consisted of 9,145 interviews with a margin of sampling error of +/- 1 percentage points, but that leaves open the issue of whether the small overall change in large enough to be statistically meaningful. HuffPollster asked Gallup to comment and received the following reply from Gallup's Jena Levy and Dan Witters:
"After incorporating design effect, here are the statistics:
The 1.2 point drop overall is significant with 90% confidence, but just misses at 95% confidence.
The 6.7 point drop among the unemployed is significant with 85% confidence, but misses at 90% confidence.
The 2.0 point drop among those aged 35-64 is significant with 95% confidence.
The 1.0 point drop among whites is significant with 90% confidence, but just misses at 95% confidence.
The 2.6 point drop among nonwhites is significant with 85% confidence, but just misses at 90% confidence.
While many of the differences within the subgroups are, therefore, not statistically significant at the traditional 95% confidence level, all are significant with at least 85%-90% confidence. Given that this is a preliminary report, unless these patterns dramatically change in the last 10 days of January, these trends will likely be significant at the 95% level as we collect more data through the end of the month."
MOST AGREE INCOME INEQUALITY IS GROWING, BUT DIFFER ON RESPONSE - HuffPollster: "Americans across both parties see a growing chasm between the wealthiest and the rest of the country, according to a Pew Research/USA Today poll released Thursday. But opinions on inequality's causes, and its ideal solutions, are often filtered through a partisan lens, with Democrats in favor of government intervention and Republicans skeptical of programs aiding the poor….Sixty-one percent of Americans, including most Republicans and Democrats, say the gap between the rich and everyone else has increased in the past decade. Thirty-eight percent of Americans now say that hard work and determination are no guarantee of success for most people, up 10 points in the past decade. Just 36 percent believe that the economic system is generally fair….Beneath those areas of agreement, however, lie fundamental partisan differences. Ninety percent of Democrats, but just 45 percent of Republicans, think the government should work to reduce income inequality." [HuffPost, Pew Research]
Of course, it depends on how you ask - Dana Blanton: "The poll finds that only a small minority of voters (13 percent) thinks the government should do something about the fact some people make a lot more money than others. A 62-percent majority is okay with disparities in income 'because that's just how the economy works.' Another 21 percent say income inequality 'stinks,' but still think the government 'shouldn't get involved.'" Fox]
VIRGINIA: WARNER BEGINS WITH A LEAD, HIGHER NAME RECOGNITION... - Rasmussen Reports: "Incumbent Democrat Mark Warner holds a 14-point lead over Republican challenger Ed Gillespie in Rasmussen Reports' first look at the likely 2014 U.S. Senate race in Virginia.
A new statewide telephone survey of Likely Virginia Voters finds that Warner earns 51% support to Gillespie's 37%. Two percent (2%) like some other candidate in the race, while nine percent (9%) are undecided...Sixty-one percent (61%) of Virginia voters have a favorable opinion of Warner, including 36% with a Very Favorable one. Gillespie, by contrast, is an unknown to 30% of voters in the state. Thirty-seven percent (37%) view him favorably, with only 11% who have a Very Favorable opinion at this point." [Rasmussen]
...but just half the vote - Christopher Newport University: "While Mark Warner enjoys strong approval from registered Virginia voters for the job he is doing as U.S. Senator, only 50% of them say they would vote for him if the election were held today. Overall, Warner enjoys a 63% approval rating, while 26% say they disapprove of the job he is doing, and 12% are uncertain or refuse to say. While 56% of voters say that Warner deserves reelection, only 50% say they would vote for him in a head-to-head matchup with the best-known Republican challenger, former Republican National Committee chairman Ed Gillespie. With Warner and Gillespie identified by party, Gillespie gets 30% of the vote, while 20% say they either plan to vote for someone else, are undecided, or don't know." [CNU]
HELPING JOURNALISTS REPORT ON 2016 - Huffpollster, with Jason Linkins: "For the benefit of everyone plying the 'writing up the most recent polls' trade, we offer a new shorthand system. Using the guide we lay out below, you can save thousands of characters in your polling coverage this year, simply by deploying a few handy symbols that can serve as permanent stand-ins for those sentence-long concepts you would otherwise have to repeat, again and again and again, for the next two years." [HuffPost]
Cheat sheet: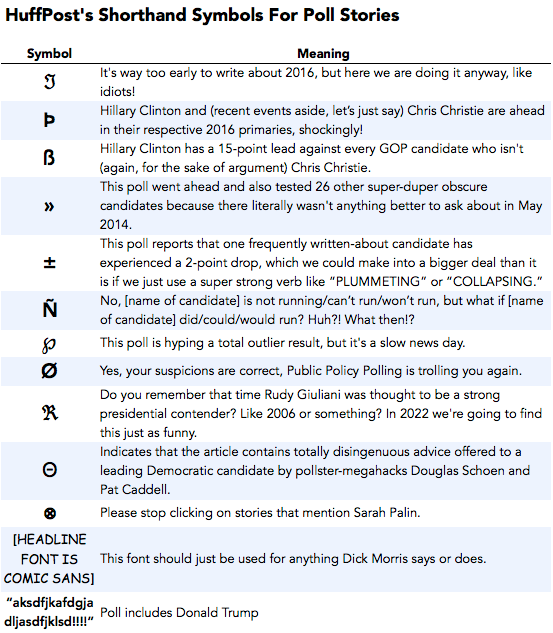 HUFFPOLLSTER VIA EMAIL! - You can receive this daily update every weekday via email! Just enter your email address in the box on the upper right corner of this page, and click "sign up." That's all there is to it (and you can unsubscribe anytime).
THURSDAY'S 'OUTLIERS' - Links to the best of news at the intersection of polling, politics and political data that we missed during our holiday break (starting with a few new items from today:
-President Obama's approval ratings show more partisan polarization than those of his predecessors. [Gallup]
-Americans think a stick works better than a carrot in getting Iran to negotiate. [YouGov]
-80 percent of Americans say kids should be allowed to play football despite the threat of head injuries. [FDU Public Mind]
-Gallup puts the party affiliation of Baby Boomers under the microscope. [Gallup]
-Sean Trende explains how the 2014 Senate contests could really matter in 2016. [RealClearPolitics]
-Andrew Gelman shows how upper income, better educated white voters have driven polarization by party on the abortion issue. [WaPost's Monkey Cage]
-Peter Beinart says Rand Paul is the 2016 Republican frontrunner. [The Atlantic]
-Kristen Soltis Anderson (R) says it's a thousand days too early to start watching polls measuring Clinton vs. Christie. [Daily Beast]
-A mathematician hacks OkCupid and uses k-modes clustering to find true love. [Wired via Flowing Data]