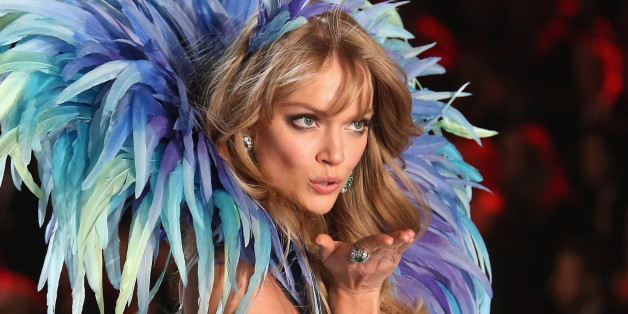 Plenty of girls dream of becoming models once they grow up. But lately, the shiny facade of the modeling world has developed quite a few cracks, as industry insiders come clean about the lack of legal rights afforded to working models, the bias towards "tall, slender figures and femininity and white skin" and the rampant body image issues pervading the biz.
But keep in mind there is another, simpler reason girls might not want to become models: It can be pretty boring.
Lindsay Ellingson spoke candidly to Vogue UK, telling the site that she relies on her own resourcefulness to keep herself engaged. "I know models sometimes complain of boredom or not being challenged, but I really don't agree with that," she said. "I had to fight with my parents to be a model and I'm so glad I did, but I don't expect my job to stimulate me every day."
To keep things interesting, she reads up on nutrition and astronomy, and she plans on launching a jewelry line. Because at the end of the day, modeling isn't going to cut it: "It's my job to keep my mind challenged."
She's not the first of the swimsuit and lingerie babes to admit modeling leaves her wanting. The always frank Brooklyn Decker told the Daily Mail about her career, "I loved the travel but I didn't love the work... I mean, come on, modeling is only so stimulating!"
How not-stimulating could it be? Last year, 17-year-old model Hailey Hasbrook published a Fashion Week diary that gave us all a cold, hard look at what modeling often consists of: lots of trying things on and waiting around.
Between that and the constant pressure to look perfect, you wonder why so many girls do want to be models. But hey, Ellingson seems pretty happy with it. Read her full Vogue UK interview here.
At least she makes it look interesting:
PHOTO GALLERY
Lindsay Ellingson, Victoria's Secret Angel
Want more? Be sure to check out HuffPost Style on Twitter, Facebook, Tumblr, Pinterest and Instagram at @HuffPostStyle.