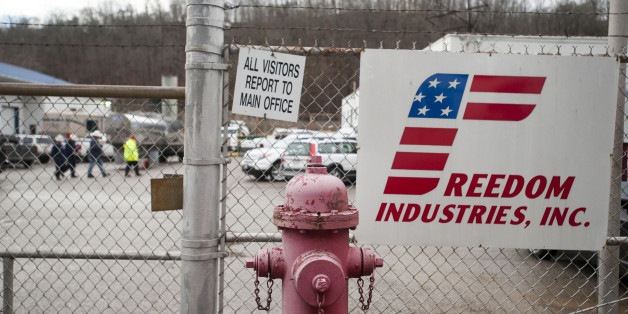 Two weeks after a chemical spill cut off access to clean tap water for 300,000 West Virginians, one of the state's U.S. senators is calling for the storage facility that spilled the chemicals to be torn down.
Sen. Joe Manchin (D-W.Va.) said that the Etowah River Terminal, which is owned by Freedom Industries, should be removed and the site should be remediated. The spill, which was discovered on January 9, dumped as much as 7,500 gallons of a chemical used to wash coal into the Elk River, about a mile and a half upstream from where the West Virginia American Water utility draws its supply. On Wednesday, state officials announced that a second chemical had also leaked into the waterway, information that the company had not initially disclosed.
"After speaking to people directly affected by the spill, it is clear West Virginians are still very concerned about the quality of their water and the potential long-term effects of the water contamination," Manchin said in a statement Thursday. "The first step to restoring confidence in our water system and ensuring West Virginians that their water is safe is to tear down Freedom Industry's facility and completely remediate the site. We need to start from scratch."
Manchin pledged to "pass legislation that will fix the problems that allowed this disaster to happen in the first place." He has proposed legislation that would require additional monitoring of chemical storage facilities.
Freedom Industries filed for bankruptcy last week. Storage facilities seem to have been a problem for the company. Immediately after the leak was discovered, state inspectors cited the company for taking "no spill containment measures" to try to keep chemicals out of the water supply. After the spill, the company moved the chemicals to a second plant — but that site had also been cited for safety violations.

BEFORE YOU GO
PHOTO GALLERY
West Virginia Chemical Spill