Move over, Bernard. Step aside, Kobe. It's Melo Time.
On a night when no shot seemed outside of his range, Carmelo Anthony poured in 62 points as the New York Knicks routed the Charlotte Bobcats 125-96. The staggering point total topped Bernard King's franchise record (60) and Kobe Bryant's building record (61) for points in a single game.
"I was just taking it one possession at a time," Anthony told Tina Cervasio of MSG Network on the court after the final buzzer. "I came into this game locked in. I didn't know I was going to have this kind of a performance. It's an unbelievable feeling."
The Knicks' standout forward didn't waste time racking up points, scoring the first basket of the game. Anthony began his assault on the record books with a 16-foot jumper after New York controlled the opening tip on Friday night. Before the game was three minutes old, the seven-time All-Star had eight points. By the close of the first quarter, Anthony had 20 points. With just seconds remaining in the second quarter, he had 34. At that point, he put everyone on notice that records could be falling at the Garden. With less than four seconds remaining before halftime, Anthony rebounded a missed shot by Bobcats guard Ramon Sessions. He quickly pushed the ball up the court and then let loose a halfcourt shot as the clocked ticked toward zero. Buzzer. Swish.
(GIF via @JonahKaner)
It didn't take look for Anthony to show that the intermission hadn't cooled off his hot hand. He drained a 15-foot jumper for the first basket of the second half and then scored his team's next four baskets. Less than five minutes into the third quarter, Anthony had 47 points. By the close of the third, he had 56 points and 10 rebounds.
"It was special," Knicks guard Iman Shumpert said of Anthony's performance after the win. "It was great. It was jaw-dropping. Just get your popcorn and watch."
With King's franchise record -- set on Dec. 25, 1984 -- and Bryant's building record -- set on Feb. 2, 2009 -- in sight, Anthony returned to the floor for the start of the fourth quarter. He missed his first shot but then drew two fouls to add four free throws to his tally within three minutes to match King. Anthony then surpassed Bryant's 61 points with 7:22 remaining by eluding a double team to drop in a running jumper.
"I am very proud of Carmelo Anthony," King told the Knicks after his longstanding team record was broken. "I consider him to be one of the greatest players in our game. If anyone was to break my Knicks record that I have held for so long, I'm absolutely delighted that it was Carmelo."
All told, Anthony's 62 points came on 23-for-35 shooting from the field. He shot 6 for 11 from three-point distance and was perfect on 10 free throw attempts.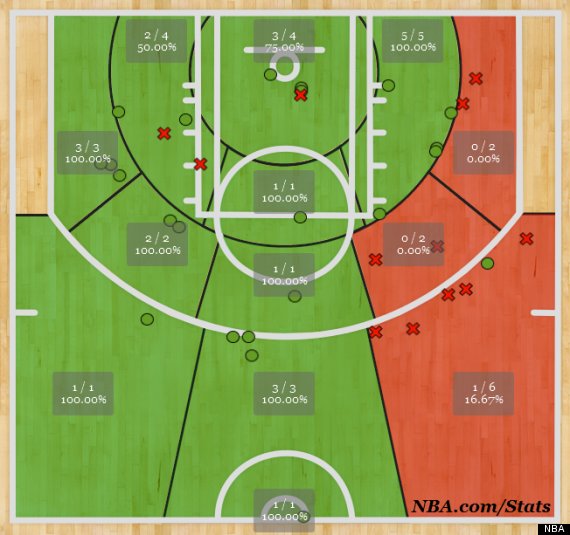 When Knicks coach Mike Woodson pulled Anthony just seconds after his record-setting basket, his teammates on the bench were understandably happy to see him.
The #Knicks celebrate Melo's 62 points pic.twitter.com/TJ1qAxqbUb

— Bleacher Report (@BleacherReport) January 25, 2014
With the Knicks leading by 109-72 at that point, Woodson would not put Anthony back on the floor. Some watching, including LeBron James, were understandably disappointed that Anthony wouldn't push his point total even higher over the final seven minutes of the fourth quarter.
C'mon Mike Woodson keep @carmeloanthony in. I wanna see 70-75! Well actually I can't see cause I'm at an event but I'll see the highlights!

— LeBron James (@KingJames) January 25, 2014
BEFORE YOU GO
PHOTO GALLERY
PHOTOS: Melo's 62-Point Game