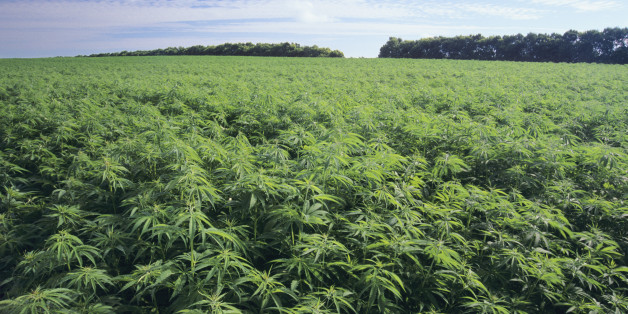 The tide may be turning on marijuana legalization.
For the first time in history, a majority of Americans favor legalizing the drug. President Obama said recently he thinks weed is not more dangerous than alcohol. And in the past two weeks, a number of states have introduced bills to open up laws prohibiting marijuana.
Those states are:
Tennessee
Although medical marijuana was legal in Tennessee in the 1980's, that law was later repealed. A bill introduced Jan. 14 by state Rep. Sherry Jones, however, would change that. The Koozer-Kuhn Medical Cannabis Act would legalize marijuana for a wide range of medical conditions and would prohibit schools, employers and landlords from discriminating against medical cannabis users. It faces opposition in the Tennessee General Assembly, but Jones is hopeful that this year the bill finally stands a chance of passing.
New Hampshire
On Jan. 15, the New Hampshire House of Representatives became the first U.S. legislative body to vote in favor of legalizing marijuana for recreational use. The proposed law would let adults over age 21 legally possess up to an ounce of weed and grow up to six marijuana plants for personal use. The bill faces an uphill battle in the Senate, which has a conservative record when it comes to voting on marijuana reform.
Maryland
Democratic lawmakers in Maryland launched an effort on Jan. 16 to legalize up to an ounce of weed and the cultivation of up to six marijuana plants for adults over age 21, even for recreational purposes. This Marijuana Control Act of 2014 would regulate and tax sales of cannabis in Maryland and even require law enforcement agencies to wipe clean the criminal records of many past marijuana offenders.
West Virginia
A bill introduced Thursday in West Virginia aims to set up a medical marijuana program that would include state-regulated cultivation facilities and dispensaries. People suffering from a variety of ailments including cancer, glaucoma and Crohn's disease would be permitted to possess up to six ounces of weed as well as 12 flowering plants, as long as they have written permission from their doctor.
Alabama
Alabama could become the first Southern state to legalize a medicine derived from marijuana if HB 104 (aka Carly's Law) passes. The bill would legalize cannabidiol, a non-psychoactive component of marijuana, to treat certain medical conditions like chronic pain, seizures, severe nausea or "any other condition that is severe and resistant to conventional medicine." The bill has bipartisan support, and Alabama's governor has suggested he would be open to such a law.
Georgia
After an emotional visit last week with a 4-year-old girl whose severe seizure disorder landed her in an Atlanta hospital, a Republican lawmaker in Georgia told The Huffington Post he would soon be unveiling a new bill to legalize cannabidiol in the state. Rep. Allen Peake's bill will be limited in scope, allowing only for cannabidiol to treat seizure disorders. Still, advocates say it's an important step forward in repealing marijuana prohibition.
These aren't the only states working to loosen up punitive marijuana laws. Efforts are also underway in Alaska, Arizona, California, Maine, Massachusetts, Montana, New York, Nevada, Vermont and Rhode Island, among others.

BEFORE YOU GO
PHOTO GALLERY
U.S. State Capitol Buildings