The New York Theatre Ballet knows the value of exposing children to the arts, but its Once Upon a Ballet series doesn't simply create a safe space for youngsters who might not make it through a multi-hour performance in silence. Instead, at events such as its Saturday showing of "The Alice-in-Wonderland Follies," staff bring children into the fun.
Before Alice (Elena Zahlmann) burst out of her dollhouse, kids in the audience were encouraged to work through a series of pliés and sautés, jumping their way to 16 counts in front of their seats. Children (and their parents) were not alienated by overbearing shushing, and exclamations of "there's Humpty Dumpty!" only enriched the audience's overall experience.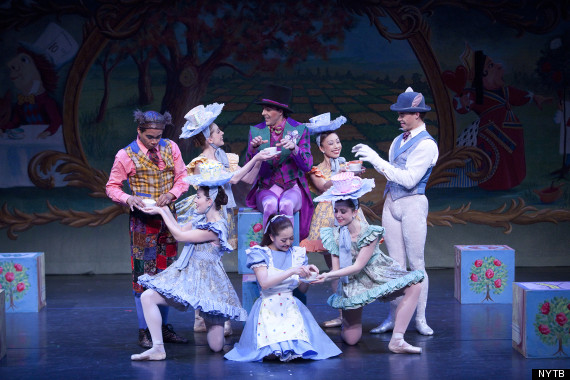 The NYTB's take on the Lewis Carroll tale is bereft of sadness, as Alice appears to have no concerns with having fallen through the looking-glass and gets along quite well with the White Rabbit, Cheshire Cat and Mad Hatter. Even the Queen of Hearts proves mostly unthreatening, save for a singular "off with their heads." The show is presented as a vaudeville ballet, set in the New York of the early 20th century and comprised of many forms of dance. At one point, an extended presentation of "Jabberwocky" offers a hambone break, and bits of step dancing interrupt the otherwise classical ballet.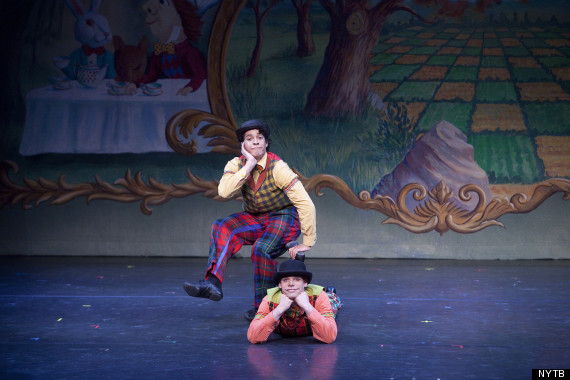 An intensely kinetic staging of the scene with Carroll's Duchess, Cook and Pig Baby is among the show's finest moments, and highlights the joys of a ballet that not only includes but foregrounds its young cast members. Later in the show, the famed tea party vignette stars a chorus of young ballerinas, costumed as both teapots and tables.
"The Alice-in-Wonderland Follies" is choreographed by Keith Michael, with sets by Gillian Bradshaw-Smith and costumes by Sylvia Taalshon Nolan. The hour-long performance makes for a great midday activity for the family. The NYTB's next installment of the Once Upon a Ballet series is "Cinderella," on March 1 & 2 at Florence Gould Hall, followed by "Carnival of the Animals" and "Sleeping Beauty's Wedding," on May 3 and 4.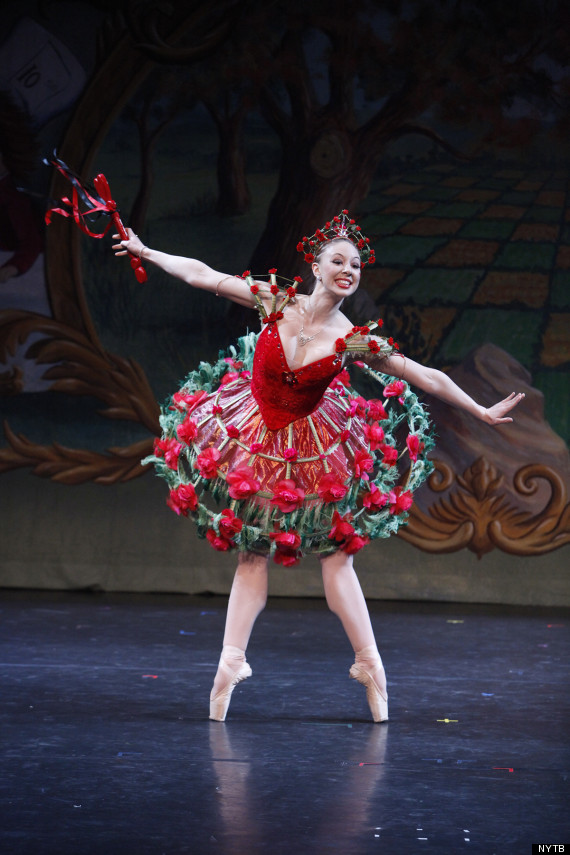 CORRECTION: A previous version of this post erroneously indicated that Christina Paolucci played the role of Alice, when the role was in fact filled by Elena Zahlmann. The error has been corrected above.