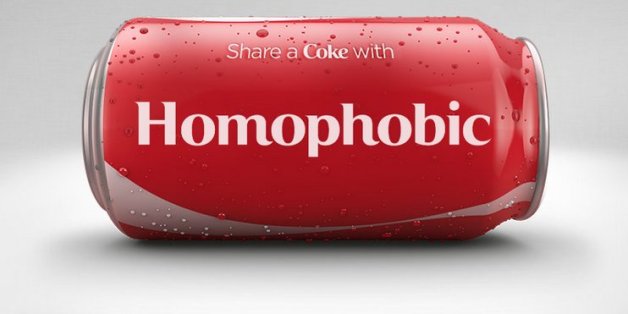 Adding to the outrage over Coca Cola's sponsorship of the 2014 Winter Olympics, a new social media campaign from the soft drink giant has been called out for preventing users from typing words associated with homosexuality.
As AmericaBlog points out, Coke's South African "Share-A-Coke" website, which lets users personalize a virtual can of Coke, and has apparently been a big success for the company, gives an awkward error message if you try to type the word "gay."
"Oops, let's pretend you didn't just try that," the message reads.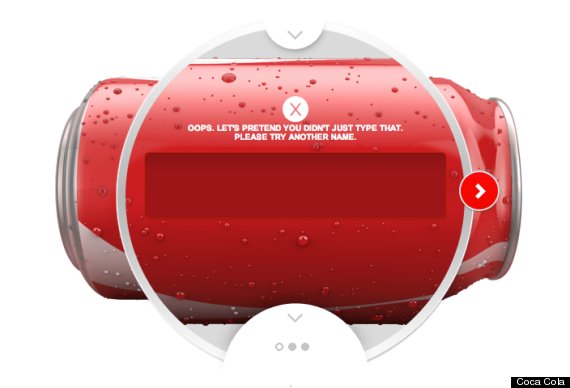 The same thing happens if you try to type the word "homo." Yet typing "straight" and "hetero" both work in the promotional tool.
Activists were quick to hijack the virtual Share-A-Coke gimmick, using it to broadcast messages slamming Coke for discriminating against the gay community.
Coke's core principle: Intolerance! https://t.co/OLemh29MKx #shareaCokeza #CheersToSochi

— DEClark (@d3clark48) January 26, 2014
Make your own for #Sochi sponsor Coca-Cola! https://t.co/DIvAH41zew #shareaCokeza

— Adam Feldman (@FeldmanAdam) January 23, 2014
You can send your #CheersToSochi message to @CocaCola using their own social media tool, here. #LGBT https://t.co/vxkKXHsLgA #shareaCokeza

— Queer Nation NY (@QueerNationNY) January 24, 2014
Coca Cola has come under fire for its sponsorship of the Winter Olympics, which are taking place in Russia, a country that recently passed a law prohibiting "gay propaganda."
The soda company released a statement in December in response to criticism, saying it was "one of the world's most inclusive brands" and that it "valued and celebrate[d] diversity."
Of course, the Share-A-Coke flap may not be intentional -- it could be merely a bug in the system. Coca Cola South Africa did not respond to our request for comment.
Watch: This video illustrates how Coke's promotional tool's gay-straight double standard.

BEFORE YOU GO
PHOTO GALLERY
25 LGBT-Friendly Products & Companies Targeted By Boycotters