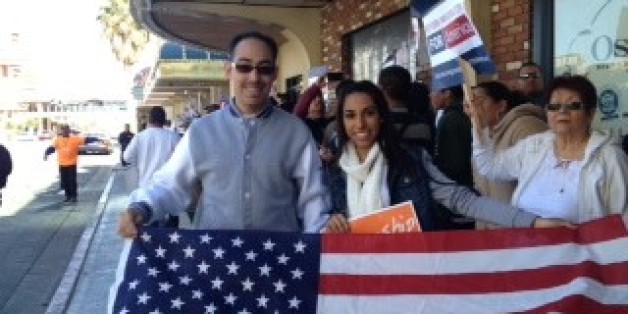 WASHINGTON -- A year ago, Alan Aleman sat in the House gallery and watched President Barack Obama vow to sign immigration reform into law in 2013. It was an exhilarating moment for Aleman -- he was sitting near First Lady Michelle Obama, surrounded by others chosen by the administration to exemplify its successes and priorities for the year ahead. He'd been to the White House earlier in the day and had his picture taken with the first lady and Vice President Joe Biden's wife, Jill Biden.
It was part of a whirlwind chain of events that went from his being mentioned in a presidential speech in Las Vegas two weeks earlier to a call asking him to be a guest at the State of the Union. Aleman said "it was like living a dream." But in the year since, immigration reform has stalled, and his other dream, to be a legal U.S. resident, has stalled with it.
He attended the 2013 State of the Union as an example of a Dreamer, one of many young undocumented immigrants who came to the United States as children. Aleman, who is now 21, moved without authorization from Mexico City to Las Vegas with his family when he was 11 years old. He applied for Deferred Action for Childhood Arrivals on Aug. 15, 2012, the first day it was available, and is allowed to work in the U.S. for two years without fear of deportation. But his status isn't permanent. He, like many others, needs immigration reform to pass if he wanted to become a legal resident or a citizen.
When he walked out of the Capitol building after the State of the Union last year, Aleman felt more confident than ever. "He brought me hope that something was going to happen in 2013," he said of Obama.
In the months after the speech, Aleman watched a bipartisan group come together in the Senate to draft a bill that passed with rare levels of support from both parties. Then he watched the legislation stall completely in the House of Representatives. In the meantime, people from his Las Vegas community were being deported.
It was frustrating for him to watch. As a caseworker at the non-profit group Hermandad Mexicana, Aleman helps young people apply for Deferred Action for Childhood Arrivals, the same program that has allowed him to stay in the U.S. He hears often about families in his community being ripped apart by deportation.
"Even though they're not related to me, they're not my friends, that doesn't mean that I can just ignore their situation," he said. "Even though I'm not going through the same thing as them, it's painful to see the families are being separated by this administration or this system."
Aleman's first contact with the White House was in January 2013, when he got a call from a phone number he didn't recognize. After listening to the message he received, he thought it was a prank. Why would the White House be calling him? But he returned the call and was surprised to hear that an aide wanted to check his story so the president could use it to highlight the need for immigration reform.
Soon after, Aleman watched as Obama told his story in a major address on immigration. He met the president briefly afterward in a rope line, holding up his work permit, thanking him and shaking his hand.
Aleman hadn't expected more to come of it. But the White House called again. This time, they wanted him to come to the State of the Union as a guest.
On the day of the address, he showed up at the White House, along with a mentor from Las Vegas he'd brought as a guest. He went on a tour, excited to be in the historic building that he never thought he'd get to visit as an undocumented immigrant. The State of the Union guests then got in a van and were driven to the Capitol, where they filed into seats looking down on where the members of Congress crowded in to watch the speech.
Aleman spotted Rep. Steven Horsford (D-Nev.) and Sen. Dean Heller (R-Nev.) in the crowd on the House floor, and said they turned to look at him directly when Obama mentioned immigration.
"We know what needs to be done," Obama said in the address. "As we speak, bipartisan groups in both chambers are working diligently to draft a bill, and I applaud their efforts. Now let's get this done. Send me a comprehensive immigration reform bill in the next few months, and I will sign it right away."
Aleman said he thought the speech would make more of a difference, although he "knew it was going to take time and leadership for them to do something." He doesn't consider himself a Republican or a Democrat, but he was frustrated when it seemed that the House GOP seemed to be giving excuses for inaction rather than putting forward its own plans. He said he still thinks reform is possible, if the parties can work together.
"If they compromise, I think it will be able to happen," he said. "It's just sometimes the Democratic Party asks for too much, the Republican Party asks for too much, and they don't talk, they only care about the political party."
As for Obama, Aleman said he hopes to see more pressure, more speeches and more action this year. Though he thinks a law would be better than an executive action, he would like to see the president expand the deferred action program, so others who are undocumented can have the same protections he does.
"I think actions can make a difference," Aleman said. "Words can be heard, but not everybody listens. Actions can be more powerful than words. If President Obama wants immigration reform to happen in 2014, I would prefer that he would be more involved into this topic."
BEFORE YOU GO
PHOTO GALLERY
Unforgettable State of The Union Moments