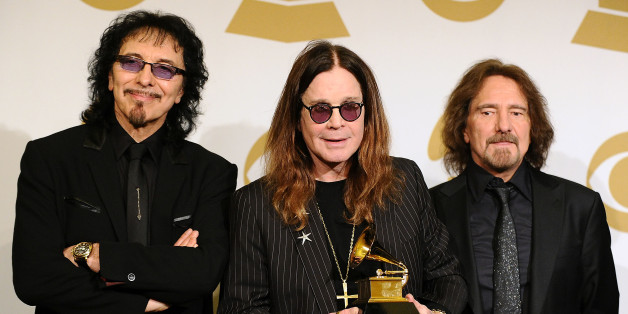 The following article is provided by Rolling Stone.
By Steve Appleford
Black Sabbath bassist-lyricist Geezer Butler has a theory about why Grammy voters gave the metal originators their second Best Metal Performance award, this time for "God Is Dead?" from the band's 2013 reunion album, 13. "Probably the question mark," Butler told Rolling Stone. "It's a marvelous song. It should have won all of them, even the hip-hop thing."
LINK: Rolling Stone's List of the 25 Best and Worst Moments From the Grammys
Geezer was standing backstage at the awards show in Los Angeles last night with singer Ozzy Osbourne and guitarist Tony Iommi. After several false starts over the years, 13 marked the first time the trio had completed a new studio album together since 1979's Never Say Die, and the band's future could easily include a return to the studio for another album.
LINK: Rolling Stone Readers Choose the 10 Best Black Sabbath Albums
"We're going back on the road," said Osbourne of potential recording projects. "We haven't really spoken about it beyond that. I'm down for it."
LINK: Rolling Stone's List of 25 Artists Who Never Won A Grammy
"Absolutely," said Iommi.
LINK: Rolling Stone's List of 8 Grammys Moments You Didn't See on TV
With the help of producer Rick Rubin, Sabbath were able to finally complete an album again because "we were running out of time," said Osbourne, 65. "We were getting on a bit. It's now or never." Added Iommi, "We were all into it. This time everything fell into place and it felt great."
LINK: Rolling Stone's List of the 100 Greatest Artists: Black Sabbath
The 13 sessions and subsequent touring last year went "much better" than expected, said Butler. "We didn't know what to expect," he explained. "It felt like the natural thing to do, rather than doing it for the sake of doing it. We just wanted to be together and play together again and write songs. We didn't want to go out on tour and do the same set as we've been doing for 30 years."
Last year's Sabbath world tour ended two days before Christmas, but the band will be back on the road beginning in late March for dates in the U.S. and Canada, plus festivals in Europe.
As he stood backstage at the Grammys, Iommi looked and sounded fit, not slowed by his ongoing cancer treatments. "Feeling OK, yeah," Iommi said, adding that it's only the radiation treatment he receives every eight weeks that slow him down. "I just get tired. Apart from that, I'm all right."
BEFORE YOU GO
PHOTO GALLERY
Black Sabbath