It's been 28 years since the Space Shuttle Challenger exploded shortly after takeoff from the Kennedy Space Center in Florida. After the 1986 accident, America mourned the deaths of the seven crew members -- including Christa McAuliffe, a civilian who had been picked to be the first teacher in space.
But the memories of that painful day -- and the bravery of the Challenger crew -- are still fresh in the minds of many.

"Today and every day, we remember our loved ones for their heroic efforts to not only inspire students, but to make a difference in all of our lives," June Scobee Rodgers, widow of Challenger Commander Dick Scobee and founding chair of the Challenger Center for Space Science Education, said in a written statement.
(Story continues below.)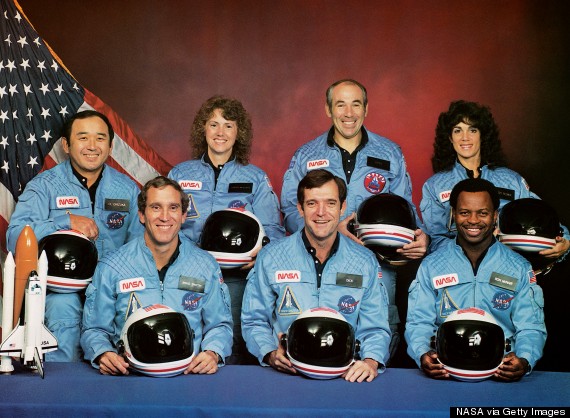 The crew of the doomed Challenger mission: (back row, left to right) Ellison S. Onizuka, Sharon Christa McAuliffe, Gregory B. Jarvis, Judith A. Resnik, (front row, left to right) Michael J. Smith, Francis R. Scobee and Ronald E. McNair. (Photo by NASA/Space Frontiers/Getty Images)
In an opinion piece for Space.com, former NASA Public Affairs Director Hugh Harris described Jan. 28, 1986, as the worst day of his life. But he argues that the Challenger disaster -- which grounded the shuttle program for almost three years -- taught NASA and the nation invaluable lessons.

He writes in the op-ed:
While it is always more fun to look back and celebrate the great successes in our lives, it is important to remember the lessons that the failures provide. ... The dedicated workforce, along with the help of a Presidential Commission, quickly found the cause of the accident. Fixing it took a bit longer. But after two and a half years, the space shuttle was flying again.
In addition to the original broadcast which is available on Youtube, new imagery of the disaster keeps surfacing all the time. Just last week, a man discovered these Challenger photos in his grandparents' old boxes. And today, this never-before-seen home video came to light.
BEFORE YOU GO
PHOTO GALLERY
Challenger Disaster Anniversary