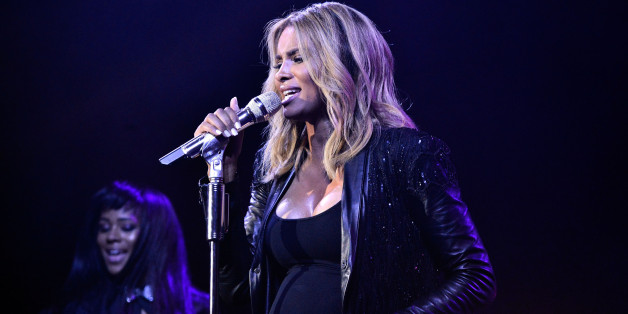 Ciara hit Los Angeles this week for the 56th annual Grammy awards, turning heads on the red carpet in an Emilio Pucci gown. While the pregnant singer was not up for any awards, she attended the spectacle and performed at an after-party following the event. Ciara played to a packed crowd at the Degree-hosted party, taking the opportunity to debut some new music.
"As you may know, I'm working on my new album now," Ciara told the audience. "There's some really cool stuff going on. Most importantly ... it's about my fans. The reason why I'm here and I still stand today is because of my fans. I'm so aware of that and I'm so thankful. So I want to take this moment and dedicate this song ... it's a new song, it's called 'Anytime,' and it's just so sweet. I want to share it with you guys."
The track features Ciara's fiance Future, as the duo croons about commitment with lyrics like, "Baby, I'll go to war for you / in this life / Baby, I'll give the stars to you / I'll be there anytime / anytime that you need." Take a listen to Ciara's "Anytime" below and keep an eye out for her next studio album later this year.
BEFORE YOU GO
PHOTO GALLERY
Future and Ciara