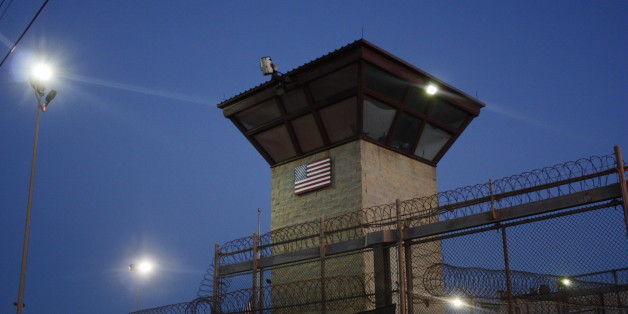 ARLINGTON, Va. -- An alleged former bodyguard to Osama bin Laden hopes to start an agricultural enterprise called Yemen Milk and Honey Farms Limited if he is released from the Guantanamo Bay prison camp, the detainee's representatives told an administrative review board on Tuesday. The idea was apparently developed in a business class offered at the camp.
Nearly three years after President Barack Obama ordered the military to hold hearings on the status of some Guantanamo detainees -- and more than five years after Obama signed an executive order to "promptly" close the prison camp -- the review process is just getting off the ground. The Periodic Review Board hearing on Tuesday marked just the second time the panel of six unnamed representatives of six government agencies heard from a detainee who has not and will not be charged under the military commissions. It was the first time there was any degree of public access.
The hearing for Abdel Malik Ahmed Abdel Wahab Al Rahabi, the alleged former bodyguard, was piped by video link from Guantanamo to a military office building in Arlington, Va.'s Crystal City neighborhood. Journalists and human rights observers arrived at 7:30 a.m. to watch the proceeding, which was supposed to start at 8:30, then 9, and finally got underway at 9:16 a.m. Nineteen minutes later, the unclassified portion was done, after one of Al Rahabi's personal military representatives read a prepared statement that had been posted on the Periodic Review Secretariat website the night before.
In the low-quality video stream, shown on a 40-second delay, observers could see five figures: Al Rahabi, a 34-year-old Yemen citizen who was captured in January 2002; his lawyer, David Remes; two unnamed personal military representatives in uniform (one Air Force, one Army); and a government translator. Al Rahabi, who reportedly participated in the hunger strike embraced by much of the detainee population last year, looked slim but healthy. He did not speak during the public portion of the hearing.
Instead, he listened from his chair, sometimes rocking lightly back and forth, as an unnamed, disembodied female voice, perhaps a member of the six-member panel, led the proceedings. According to a military spokesman, the panel members were themselves participating in the Guantanamo hearing via video from a location in the Washington metropolitan area.
A 2008 detainee assessment, made available by WikiLeaks, indicates that Al Rahabi had sometimes tossed "cocktails" of bodily fluids at guards, but according to his lawyer, he has been compliant since around 2009. A military profile prepared for the review board said that Al Rahabi in his pre-Gitmo days may have been selected to participate in a hijacking plot and that he would have "ample opportunities to join AQAP [Al Qaeda in the Arabian Peninsula] if he decided to reengage." It concluded, however, that he "probably would seek to return to his family in Ibb, Yemen."
During the hearing, Remes, his lawyer, portrayed Al Rahabi as one of the most compliant detainees at Guantanamo. Remes said his client developed a "love of watercolors" during an art class and receives frequent updates from his 13-year-old daughter, Ayesha. He wants to return to his wife and family and start a business called Yemen Milk and Honey Farms Limited; he developed a plan for the business that Remes called "detailed, thorough and comprehensive."
The Miami Herald, which obtained a copy of the plan, said it envisions a "windmill-run farm with cows, sheep, chickens and '10 Honey Bee farming fruit trees, vegetables and flowers.'"
A military spokesman said that Al Rahabi was allowed to speak during the classified portion of the hearing, and a transcript of those parts of the proceeding that military officials determine can be released will be posted on the review board's website at a future date.
More than one dozen journalists who applied to attend the video session in Arlington were denied access on the basis that the room was too small, the military spokesman said -- though there were several empty seats Tuesday morning and plenty of room for additional seats to be placed against the wall. Altogether, nine journalists and four human rights organizations were approved to observe the review board proceeding from Arlington.
It's unclear how detainees are selected to appear before the review board or how exactly the process works. The Periodic Review Board serves as a pseudo-parole board (though military officials don't like that comparison) and is supposed to review the detention of dozens of detainees, out of some 155 remaining at Guantanamo. In the one case it has completed, the board decided that Mahmud Abd Al Aziz Al Mujahid would be approved for release. In addition to Al Rahabi, two other detainees, Ali Ahmad al-Rahizi and Ghaleb Nassar Al Bihani, have hearings pending.
Reporters were given more access to a similar detainee review process during the Bush administration, and the restrictions on the Obama-era version have come under fire. Daphne Eviatar of Human Rights First, who was in attendance in Arlington Tuesday, questioned whether these hearings can really be considered public "if the only part observers are permitted to hear has all been written, government-screened and published beforehand."
BEFORE YOU GO
PHOTO GALLERY
Inside Guantanamo's Prison Facility