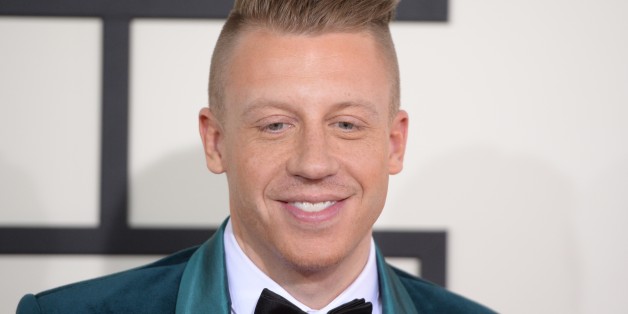 Rapper Macklemore took some heat Monday after a "dykes and drag queens" tweet he posted back in 2009 began circulating following his Grammy Awards performance. However, it all turned out to be one big misunderstanding.
Macklemore & Ryan Lewis performed the equal rights anthem, "Same Love," with Madonna and Mary Lambert at the Grammys on Sunday night, while Queen Latifah officiated 33 mini-weddings live on stage. The 33 couples were from all walks of life: gay, straight, interracial and multi-aged.
The morning after the event, however, a tweet Macklemore posted five years ago began making the rounds on Twitter, and some social media users questioned the singer's actual level of tolerance. In the tweet, the Seattle native uses the terms "dyke" and "drag queens."
watching dykes vs. drag queens play baseball on the hill...this sucks

— Macklemore (@macklemore) June 14, 2009
More than 1,000 people retweeted the post within 24 hours. Some questioned if the singer's account was hacked, while others accused him of cashing in on the people he "used to laugh at."
Alas, the message is not what it seems. A June 2009 article written by the Capitol Hill Seattle blog described a Bat n' Rouge softball game played at Cal Anderson Park's Bobby Morris Playfield between the Drag Queens and the Dykes, two opposing teams.
Macklemore tweeted about the issue on Tuesday, writing:


The Huffington Post reached out to Macklemore for comment and further contextualization of the tweet but did not receive an immediate response.
Note: Macklemore's response appears to have been taken down from Twitter.
BEFORE YOU GO
PHOTO GALLERY
Celebrities Who've Faced Gay Rumors