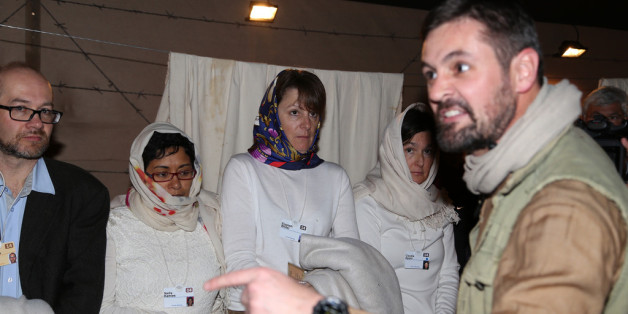 Last week, some of the wealthy and hyper-powerful attendees at the World Economic Forum temporarily departed their mountainside resort in Davos, Switzerland, and immersed themselves in the plight of a Syrian refugee. At least, for an hour or so.
In an attempt to demonstrate the refugee experience for delegates, Crossroads Foundation, a Hong Kong-based non-profit, organized a "refugee run" at WEF. Taking part in the simulation were some of the world's most elite individuals, including Queen Mathilde of Belgium, according to the Independent. Richard Branson, Sheryl Sandberg and Ban Ki-Moon have participated in previous years, the outlet reported.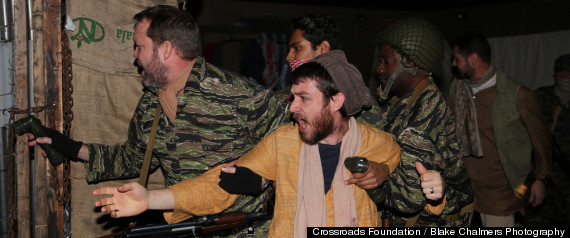 According to Crossroads' website, the refugee run is a simulation that puts participants through a handful of role-playing exercises. Within a controlled environment, participants take on the identity of refugees trying to avoid danger and are confronted with the fear, violence and hardships that displaced people frequently experience.
Journalist Anthony Reuben participated in the run and documented the experience for BBC News:
We were crouching in the straw, being told urgently about how our people had been killed and we had to flee. The lights went out, we heard gunshots, then we were made to run past a military checkpoint into a bigger room, with a corrugated iron shack, a market stall and several makeshift tents. There were armed soldiers, who made us squat down and fill out forms, with our new identities.
According to the UNHCR, there were 15.4 million refugees globally at the end of 2012. With the crises in Syria and South Sudan, these numbers are unfortunately likely to rise. The experiences of refugees differ across regions and cultures, but the plight of displaced people is universally difficult for outsiders to comprehend.
Crossroads Foundation acknowledges the limitations that arise when simulating the refugee experience -- a simulation will never be able to bring the varied, horrific and nuanced experiences of refugees to WEF. However, the organization says that their approach is more powerful than the usual statistics.
"We live in a world where the plight of the forcibly displaced is too often reduced to a set of statistics or data on a graph or pie chart," their website says. "Our longing is to work with refugees in order to bring alive, even under limited conditions, [their] dilemma."
BEFORE YOU GO
PHOTO GALLERY
Syrians Flee Fighting