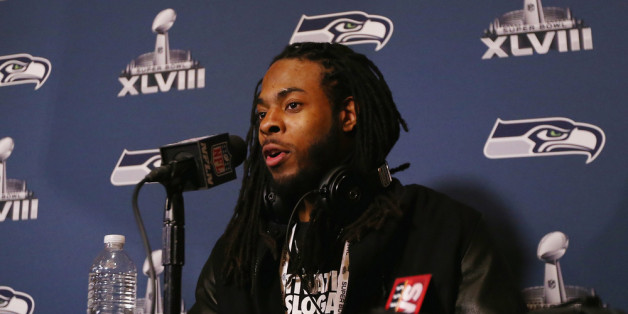 Richard Sherman may believe that San Francisco 49ers wide receiver Michael Crabtree is mediocre. He may also believe that he is the greatest cornerback in the NFL. But he has learned that ranting about the former won't help convince anyone of the latter.
In a column titled "10 Things I Learned After America Learned About Me" published at The Monday Morning Quarterback on Tuesday, Sherman opened up about the fallout from his emotional rant following the NFC Championship Game. The 25-year-old All-Pro admits that he "shouldn't have attacked Michael Crabtree" while explaining the first lesson that he has learned.
1. No one has ever made himself great by showing how small someone else is. That's not mine. It belongs to Irvin Himmel. Somebody tweeted it at me after the NFC Championship Game. If I could pass a lesson on to the kids it would be this: Don't attack anybody. I shouldn't have attacked Michael Crabtree the way I did. You don't have to put anybody else down to make yourself bigger.
Sherman's admission came after his words -- and those of his critics -- had been parsed and interpreted for a week. In addition to facing the sports media ahead of Super Bowl XLVIII, the Seahawks' superstar cornerback appeared on CNN and MSNBC as his comments sparked a national conversation on race, sportsmanship and showmanship.
CLICK HERE to read the 9 other things that Sherman has learned
BEFORE YOU GO