 The Seahawks-Broncos matchup of Super Bowl XLVIII is being sold as Peyton Manning and the NFL's best offense against Richard Sherman and the NFL's best defense. After all, this is just the sixth time in league history that the big game pits the No. 1 offense against the top-ranked defense. The last time it happened was 1990, so we can understand the excitement.
One unit perhaps being overlooked, however, is Seattle's offense, which features second-year quarterback Russell Wilson -- who has been selected to the Pro Bowl his first two seasons -- and Marshawn Lynch, one of the game's premier running backs. And don't forget that the 12-year age gap between Wilson and Manning is the largest ever between quarterbacks in Super Bowl history.
With Super Sunday fast approaching, here are five of the most important things to know about the Seahawks offense.
1. Beast Mode
We've seen Lynch destroy defenses for two seasons now. This Sunday, it will be his job not only to pound the ball, but to keep it away from Manning. The Seahawks love play-action, but Denver ranked eighth in the league in rush yards against, thanks in large part to the emergence of defensive tackle Terrance "Pot Roast" Knighton. At the same time, no runner in the league had more yards after contact than the Skittles-loving Lynch. Something's got to give.
2. Seattle's Offensive Line
It's been a patchwork line most of the season, because of issues with both talent and injuries. Former first round pick James Carpenter is no longer starting, and as a whole, this unit has really struggled in pass protection, as Football Outsiders shows here. Denver's best pass-rusher and All-Pro linebacker Von Miller is out, but the question remains: Can this line provide Wilson with enough time to throw the ball? It's been an issue all year long.
3. 'Pedestrian Wide Receivers'
Former undrafted receiver Doug Baldwin has grown weary of being called "pedestrian," along with the rest of Seattle's receiving core. With Percy Harvin sidelined for most of the season, this unit has struggled to produce game-breaking plays. Baldwin, though, has become one of the league's more productive slot guys, and his 215 all-purpose yards in the NFC title game give a clue as to why. In fact, Baldwin (pictured below) caught passes on an incredible 68.5 percent of his targets this season, better than All-Pros Calvin Johnson and Demaryius Thomas. The key is that Baldwin, Harvin and Golden Tate get out of their breaks and allow Wilson to unload the football faster. Don't forget: This is the first Super Bowl team since the 2006 Chicago Bears without a 1,000-yard receiver.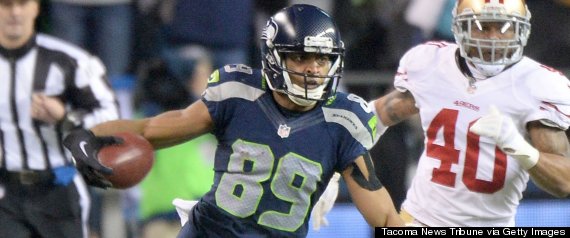 4. DangeRuss
Right now, 25-year-old Russell Wilson is enduring the worst six-game stretch of his career, averaging a measly 162 yards passing to go along with just five touchdowns. He has been surprisingly inaccurate and oddly quick to leave the pocket, often struggling against zone coverages. Offensive coordinator Darrell Bevell has to open up the playbook for Wilson -- and, perhaps more importantly, he needs to get his quarterback comfortable with some easy throws early. But everything goes hand in hand: The line has to protect and the receivers have to get open ... two issues that have come up again and again during Seattle's 15-3 season.
5. Inspiration
Did you know the Seahawks feature the NFL's first ever deaf offensive player?
Email me at jordan.schultz@huffingtonpost.com or ask me questions about anything sports-related at @Schultz_Report and follow me on Instagram @Schultz_Report. Also, be sure and catch my NBC Sports Radio show, "Kup and Schultz," which airs Sunday mornings from 9-12 ET, right here.
BEFORE YOU GO