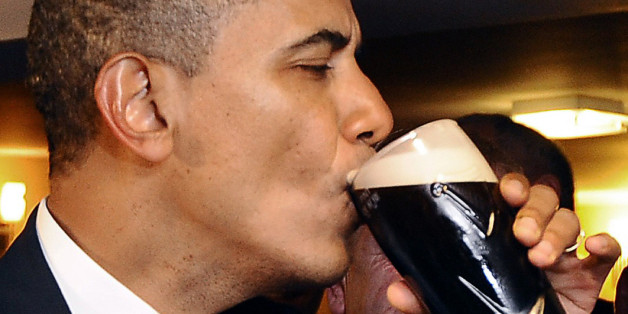 Hello, America. It's Tuesday, Jan. 28, and you know what that means!
President Barack Obama will be delivering his 2014 State of the Union address before a joint session of Congress, the Cabinet, the Supreme Court, and a few people who actually don't have jobs, but are the most deserving of them among all those assembled.
Tonight's big topic? Income inequality. Bummer stuff, really. Which means it's as solid an excuse as any to get good and soused.
We want to serve as America's gentle enabler, but we also want to "take on the big issues," so we've prepared our annual State of the Union libation enhancement guide with an eye toward giving you the most substantive and informed scuppering available in the contiguous United States.
We've sat through way too many of these things, and we've read all of the advance rumors about what's being discussed tonight, and so we hope we can offer some realistic predictions of what's about to happen -- while accounting for the improbable and implausible, as well.
All in good fun, is how we see it, and lord knows, this never-revelatory occasion could use something of a boost in the enjoyment department. As always, however, we urge you to behave responsibly! Somebody has to! It's going to have to be you, I'm afraid.
What is the State Of The Union?
Take a sip
Obama says, "The state of the union is strong."
Take a swig
Obama says, "The state of the union is heading in a just and equitable direction for all Americans."
Pound a shot
Obama says, "The state of the union...I mean, I've seen worse."
Finish the bottle
Obama says, "Just got to be honest with you, folks, y'all pretty much came in at the end. Who's up for the sort of easy comfort that many second-rate nations enjoy?"

Hot State Of The Union Topics
Take a sip
Obama discusses income inequality, the minimum wage, unemployment, infrastructure spending.
Take a swig
Obama discusses foreign policy goals, ongoing Iran negotiations, his "promise zone" proposal, comprehensive immigration reform.
Pound a shot
Obama announces he'll re-up on trying to pass a background-checks bill for gun sales, talks up student loan forgiveness, energy alternatives.

Finish the bottle
Obama laments the fact that the majority of Americans weren't willing to give "Low Winter Sun" an honest chance.
State Of The Union Themes
Take a sip
"It's time to restore the promise of economic mobility, the idea that we give our kids a better chance than the one we had."
Take a swig
"This modest rise in the minimum wage is the least we can do, and yet it will mean so much to millions of Americans."

Pound a shot
"Basically, if I even urge Americans to brush your teeth twice a day, the Heritage Foundation is going to come out in favor of tooth decay by 11:30 tonight."

Finish the bottle
"We'll never be royals. It don't run in our blood. That kind of luxe just ain't for us. We crave a different kind of buzz."
Reminder of Obamacare
Take a sip
Obama apologizes for bungled roll-out of Healthcare.gov, asserts that the law is nevertheless proceeding according to plan.
Take a swig
Obama mounts robust defense of Affordable Care Act, goes on the offensive against red-state governors who have impeded their constituents' access to health-care options.
Pound a shot
Obama says, "I'll be honest with you, Obamacare is TOTALLY a ruse that's intended to lead to single payer. You got me!"
Finish the bottle
Obama starts to talk about Obamacare, and releases hundreds of puppies and kittens from hidden kennels behind the dais. "Where did all these fellas come from?" he says, adding, "Just look at their cute faces! Wow, I forgot what I was even talking about!"
Goals for the Coming Year
Take a sip
1. 2014 will be a "year of action" intended to end the diverging fortunes of the middle class, reversing decades-long trend of widening income inequality.
2. Will fight to end the discrimination against the long-term unemployed that's currently keeping them from getting back in the workforce
3. Will develop a comprehensive plan to ensure that all higher-education seekers are getting real value for their tuition dollars
Take a swig
1. Will be a partner in getting "big ticket" agenda items across the goal line, with bipartisan support -- such as immigration reform, tax reform
2. Will ensure a sensible drawdown from Afghanistan that brings the majority of troops home to their family while leaving a plan in place that demonstrates America's resoluteness in standing against radical extremists
3. Will pursue negotiations with Iran on its nuclear power program so long as the Iranian regime remains a substantive partner
Pound a shot
1. Announces major initiative to provide mental health care to those who are currently falling through the cracks
2. States that he is ready to greenlight the Keystone XL pipeline
3. Promises to aggressively fight for net neutrality
Finish the bottle
1. "I don't know about you guys, but we should meet up in Aurora this summer and smoke up."
2. "Grab your pitchforks, everyone, we march on Tom Perkins' palatial estate tonight!"
3. "Seriously, you guys, 'Low Winter Sun' was an alright show."
NSA Mention?
Take a sip
Obama says, "We will have a valuable debate and come to a reasonable balance of liberty and security."
Take a swig
Obama insists, "The powers that have been given to the NSA, while broad, have been oversold as something that law-abiding Americans should fear."
Pound a shot
Obama says, "I've got clemency paperwork for Edward Snowden right here, tonight, for him to come and read." He then places that paperwork on top of a bear trap.
Finish the bottle
Obama stage-whispers: "I CAN'T TALK ABOUT THIS, GUYS. I'M IN WAY TOO DEEP."
Historical References
Take a sip
Obama quotes LBJ or Lincoln.
Take a swig
Obama quotes Teddy Roosevelt or Dwight Eisenhower.
Pound a shot
Obama cites James Madison or Thomas Jefferson.
Finish the bottle
Obama quotes Daft Punk.
Camera Cutaways
Take a sip
If the camera alights on Elizabeth Warren, Michelle Obama, Chuck Schumer, Mitch McConnell, Ted Cruz with his nose in the air
Take a swig
If the camera alights on Rand Paul, John Lewis, Paul Ryan, Nancy Pelosi, Ted Cruz staring into a hand mirror

Pound a shot
If the camera alights on Renee Ellmers, Raul Grijalva, Aaron Schock, Alan Grayson, Ted Cruz standing in front of a full-length mirror

Finish the bottle
If the camera alights on the cast of "Workaholics", the "Planet Hillary" from the New York Times Magazine cover, Steve Stockman, Edward Snowden, Ted Cruz burning his Canadian citizenship papers

Audience Reactions
Take a sip
Democrats find moments to enthusiastically applaud.
Take a swig
Republicans find some spots to do some trolling.
Pound a shot
Obama gets heckled from the cheap seats.
Finish the bottle
A panicked Louie Gohmert bursts into the chamber, yelling, "Oh come on, you guys! Why didn't any of you tell me this was tonight?"
Joe Biden and John Boehner
Take a sip
Biden and Boehner offer warm greetings to the president and each other, sharing a private joke.
Take a swig
Biden gamely offers the president's remarks broad smiles and enthusiastic applause; Boeher responds with polite ovations.
Pound a shot
Biden pulls out a sack, reveals that he's brought enough chili dogs for he and Boehner to share during the speech.
Finish the bottle
Biden unfurls a massive "BIDEN 2016" banner right there on the dais.
The Unexpected
Take a sip
Obama makes explicit endorsement of Hillary Clinton in 2016.
Take a swig
Obama trolls the gaffe-happy political media by saying the word "conclusion" aloud just like Maryland Gov. Martin O'Malley did.
Pound a shot
Macklemore gay-marries the entire Supreme Court to each other in a legally binding ceremony.
Finish the bottle
Obama mentions the Elk River chemical spill.
[Would you like to follow me on Twitter? Because why not?]
BEFORE YOU GO
01/29/2014 1:22 AM EST
Sen. Menendez On Obama Sinking His Iran Sanctions Bill: 'I'm Not Frustrated'
President Barack Obama made clear Tuesday night that an Iran sanctions bill being pushed by Sen. Robert Menendez (D-N.J.) isn't going anywhere, threatening a veto if it ever made it to his desk.
HuffPost caught up with Menendez after the president's address and asked for his thoughts on Obama shutting down his legislation. He didn't have much to say.
"I'm not frustrated," said the New Jersey Democrat as he ducked into an elevator, pushing the buttons and looking ready to be done with the conversation. "The president has every right to do what he wants."
Menendez's bill has bipartisan support, but it faces stiff resistance from the White House, which argues it may thwart a delicate deal now in place between Iran and a number of world powers, including the United States. Under that six-month deal, Iran will stop developing its nuclear capability in exchange for an ease in existing sanctions.
Speaking to a group of reporters as he made his way to the elevator, Menendez said his "real concern" is that, without steadily imposing sanctions on Iran, the U.S. will ultimately let them all fall away.
"We'll have to accept a nuclear weapons state or we're going to end up with a military option," he said. "We won't have sanctions in place anymore."
Rep. James Lankford (R-Okla.) said he noticed something different about the way the president talked about Iran during Tuesday's address.
"He talked about preventing them from building a nuclear weapon. It used to be we're going to prevent them from having the capability to build a nuclear weapon. That seems to be gone," Lankford said. "It was all about just not getting to the last stage rather than capability. That's a pretty big shift."
-- Jennifer Bendery and Michael McAuliff
01/29/2014 1:03 AM EST
Michele Bachmann: Equal Pay Is So Old
Rep. Michele Bachmann (R-Minn.) didn't think much of President Barack Obama's State of the Union address (aside form his support for wounded warriors), but she was especially dismissive of his appeal for women to get equal pay. That's just so over, Bachmann argued.
"Frankly, a lot of what we heard were 40-year-old prescriptions and 40-year-old bromides. I mean really, equal pay for equal work?" Bachmann said. "I mean, this was something in the 1970s people were talking about. So I think we've addressed that."
Most economists estimate that women earn about 77 percent of what their male counterparts earn.
-- Michael McAuliff
01/29/2014 12:57 AM EST
Sen. Lindsey Graham: 'World Is Literally About To Blow Up'
Shortly after President Barack Obama's State of the Union address Tuesday, Sen. Lindsey Graham (R-S.C.) told reporters point-blank: "The world is literally about to blow up and our president did not really paint a fair picture of the threats we face."
Graham, a member of the Senate Arms Services Committee, said he wanted Obama to tell the American public during his annual address how he intends to resolve the conflict in Syria and questioned whether the administration's negotiations with Iranians over their nuclear program would be productive.
"I cannot stress to you enough how disappointed I was to hear the president's explanation of the state of affairs when it comes to the Mid-East and our national security threats," Graham said. "I thought he underplayed that and oversold. Explain what happens in the Middle East if the Syrian conflict goes on and (Bashar al) Assad continues to win."
He went on: "I would say that trying to free people from the bonds of al Qaeda is a good thing. That going into Afghanistan is a good thing. Taking Saddam Hussein out is a good thing. Trying to get people get on their feet and elect their government is a good thing."
Graham and a bipartisan group of senators have called for more sanctions on Iran. Obama has promised to veto any legislation that would increase such sanctions.
-- Eugene Mulero
01/29/2014 12:35 AM EST
State Of The Union Poll Gives Obama Positive Marks
HuffPost's Ariel Edwards-Levy and Mark Blumenthal report:
CNN's instant polling among Americans who watched Tuesday's State of the Union found an overwhelming majority reacting positively to President Barack Obama's address, as it has four times previously during his presidency.

The network's poll found that 76 percent of Americans viewed the speech somewhat or very positively, in line with reactions to his previous speeches, although the percentage with "very positive" views declined. Last year, 77 percent of watchers reported a positive view of the speech to CNN, and slightly higher numbers approved of Obama's speeches in three previous years. (The network didn't conduct a post-State of the Union poll in 2012.)
01/29/2014 12:15 AM EST
GOP Response To State Of The Union Leaves Out These Words: Repeal Obamacare
HuffPost's Jeffrey Young reports:
Rep. Cathy McMorris-Rodgers (R-Wash.) delivered harsh criticisms of President Barack Obama's health care reform law during the official GOP response to his State of the Union address Tuesday, but stopped short of explicitly demanding its repeal.

McMorris-Rodgers highlighted the negative effects of the Affordable Care Act on consumers whose premiums rose, whose previous health insurance policies were canceled because they didn't meet the law's benefit standards and whose physicians aren't covered by the new plans available on Obamacare's health insurance exchanges. But while McMorris-Rodgers declared Obama's reforms a failure, she didn't vow that congressional Republicans would continue their push to repeal the law, for which the GOP-led House has vote dozens of times.

"No, we shouldn't go back to the way things were, but this law is not working. Republicans believe health care choices should be yours, not the government's," McMorris-Rodgers said. House Speaker John Boehner (R-Ohio) made no mention of Obamacare in the written statement he issued following the speaches by Obama and McMorris-Rodgers.
01/28/2014 11:17 PM EST
'All-Of-The-Above' Energy?
Environmental advocates had mixed reviews for the climate and energy portions of President Barack Obama's speech –- praising his climate comments but criticizing his energy strategy.
A number of environmental groups wrote to the president earlier this month asking him to drop his "all-of-the-above" rhetoric on energy. That policy, they wrote, is "fundamentally at odds with your goal of cutting carbon pollution." But Obama's speech doubled down on that language, claiming that the strategy "is working."
"If we are truly serious about fighting the climate crisis, we must look beyond an 'all of the above' energy policy and replace dirty fuels with clean energy," Sierra Club Executive Director Michael Brune said in a statement following the speech. "We can't effectively act on climate and expand drilling and fracking for oil and gas at the same time."
Erich Pica, the president of Friends of the Earth, noted that the speech "was filled with unhelpful contradictions" in an email to The Huffington Post. "You cannot address carbon pollution through an all of the above energy policy. You cannot promote regulatory streamlining and trade pacts that will undermine governments regulations while trying to implement carbon pollution regulations."
Gene Karpinski, president of the League of Conservation Voters, praised the climate portion of the speech but also brought up the environmental elephant in the room that Obama didn't address tonight: the Keystone XL pipeline. His statement called on Obama to reject the proposed pipeline from Canada to Texas.
-- Kate Sheppard
01/28/2014 11:16 PM EST
Republicans Respond To Obama With A Soft-Focus Human Interest Speech
HuffPost's Jon Ward reports:
The response to the president's State of the Union address from Rep. Cathy McMorris-Rodgers (R-Wash.), the GOP's fourth-ranking member in the House, was largely an attempt to present a humanizing side of the GOP, "a more hopeful Republican vision."

The 44-year old mother of three, who gave birth to her third child in November, talked at length about her own biography: She worked at a McDonald's drive-through in college, she got up before dawn to pick apples on her family's orchard, she was in the 4H Club, she's married to a retired Navy commander. The YouTube livestream of her speech featured a picture of McMorris-Rodgers' family when she mentioned her husband and children.

[...]

Beyond that, her speech was largely a string of generalized bromides about how Republicans want to "empower people, not politicians."

But for a party that has lost support among women voters in the last few elections -- and is viewed by a good number of voters as the party of old white men -- such a soft-focus human interest speech was just what the GOP wanted.
01/28/2014 11:12 PM EST
Obama Barely Mentions Government Shutdown, In Contrast To Clinton In 1996
HuffPost's Amanda Terkel reports:
In 1996, President Bill Clinton went before the nation and shamed congressional Republicans for shutting down the government. It was his first State of the Union address after two shutdowns that closed the federal government for 28 days, and he made sure GOP lawmakers would regret what they did.

But on Tuesday, in his first State of the Union speech since the 16-day shutdown in October, President Barack Obama took a very different approach. He made only a passing reference to the government shutdown and never pointed the finger directly at anyone.

"For several years now, this town has been consumed by a rancorous argument over the proper size of the federal government," said Obama near the beginning of his address. "It's an important debate -- one that dates back to our very founding. But when that debate prevents us from carrying out even the most basic functions of our democracy -- when our differences shut down government or threaten the full faith and credit of the United States -- then we are not doing right by the American people."
01/28/2014 11:07 PM EST
Exactly Zero Words On Pot, Drug Policy Or Criminal Justice Reform
President Barack Obama didn't mention criminal justice, drug policy or marijuana in his 2014 State of the Union address at all.
Obama recently told the New Yorker he was troubled that "Middle-class kids don't get locked up for smoking pot, and poor kids do." Attorney General Eric Holder has identified fixing the broken justice system that disproportionately affects millions of young black men as one of his top priorities. And the administration recently seems to be taking a more lenient stance on drug policy, allowing Colorado and Washington to proceed with their experiments in marijuana legalization.
None of that, however, was in the speech.
Every interest group feels left out when their favorite issue gets excluded from the State of the Union, and marijuana reform advocates are no exception. Tom Angell, co-founder of Marijuana Majority, said he thought it was "shameful" the president couldn't spare a few words.
"There are many ways the president can act to lead us out of this mess without Congress, including commuting the sentences of the thousands of nonviolent drug offenders that are locked up for no good reason," he said in an email. "He should also use the bully pulpit to build the case for repealing mandatory minimum sentences and reforming the failed drug prohibition policies that put too many of our fellow Americans behind bars for too long."
-- Matt Sledge
01/28/2014 11:01 PM EST
Drone Strikes Under 'Prudent Limits' Still Cause Civilian Casualties
President Barack Obama mentioned in his remarks the "prudent limits" he has imposed on U.S. drone strikes, referring to new procedures for the so-called "targeted killing" program laid out in a May 2013 speech.
In Pakistan, at least, those procedures seem to be having some effect: the U.K.'s Bureau of Investigative Journalism recently found that there were no reported civilian casualties from drones in that country in 2013.
Overall, however, drone strike deaths -- including those of suspected militants -- increased in both Pakistan and Yemen in the first six months after the May speech. And 2013 ended on a grisly note for the program, when the U.S. killed up to 12 civilians in a strike on a Yemeni wedding convoy.
"We will not be safer if people abroad believe we strike within their countries without regard for the consequence," Obama said Tuesday.
So far, Pakistanis and Yemenis do not seem to be satisfied by the changes to the drone program. Pakistani's interior minister this week blamed a U.S. drone strike for derailing peace talks with the Pakistani Taliban, and Yemen's parliament approved a resolution after the wedding convoy attack calling for an end to all drone strikes in the country.
-- Matt Sledge