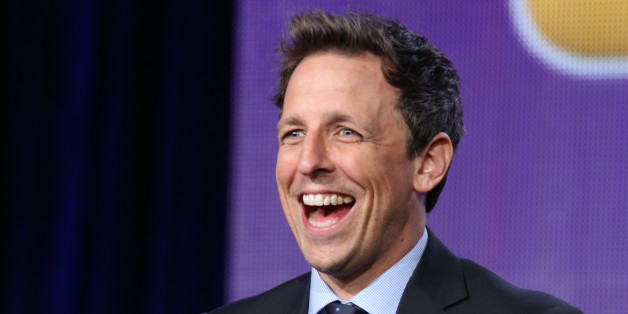 What do Seth Meyers, Carrie Brownstein and Jeffrey Tambor have in common? Aside from being hilarious, they're all headed to Austin, Texas this March for South By Southwest Comedy.
Known widely for bringing together the best in technology, film and music, SXSW festival has also become a hub for comedy in recent years. Today the festival announced a slate of comedy panels for the 2014 festival open to all Interactive, Film, Gold and Platinum badge holders.
Scroll down for the first-announced events, including what will likely be the first behind-the-scenes look at the new "Late Night With Seth Meyers," below.
SXSW Comedy's full line-up and performance schedule, which will include over 50 comics, has yet to be announced. Click here to see our coverage of the 2013 festival.
Inside Late Night with Seth Meyers

Saturday March 8 (3:30pm / Ballroom 18ABCD)

with Seth Meyers, Alex Baze, and Mike Shoemaker; moderated by Olivia Munn

Just two weeks after NBC's *Late Night with Seth Meyers* debut, new host Seth Meyers, producer Mike Shoemaker and head writer Alex Baze head to SXSW with behind the scenes stories. Olivia Munn will moderate as the Emmy Award-winning trio of Saturday Night Live alums talk about taking over a historic time slot, building their unique brand of topical comedy, and much more.


Portlandia: Behind the Scenes with the Creators

Tuesday March 11 (3:30pm / Ballroom 18ABCD)

with Fred Armisen, Carrie Brownstein, and Jonathan Krisel; moderated by Matt Braunger

Portlandia has taken character-driven sketch to new levels, mastering the art of cultural parody. Stars and writers Fred Armisen and Carrie Brownstein, along with director Jonathan Krisel, will preview new material and give insight into the process of creating the subversive and lovable gem in this discussion moderated by comic Matt Braunger.

Jeffrey Tambor's Acting Workshop

Sunday March 9 (3:30pm / Ballroom 18ABCD)

featuring Jeffrey Tambor and very special guests

Jeffrey Tambor (The Larry Sanders Show, Arrested Development) has created some of comedy's most loved, respected, and iconic characters. In this year's edition of his Acting Workshop, Tambor will guide a pair of up-and-coming comic actors through his method for bringing life to scripted scenes. This annual, acclaimed event promises to be insightful, playful, and completely unpredictable.

The Pete Holmes Show Makes it Weird

Monday March 10 (3:30pm / Ballroom 18ABCD)

with Pete Holmes, Nick Bernstein, and Oren Brimer

Stand-up comic, cartoonist, writer, podcaster, and SXSW favorite Pete Holmes has recently taken on another new role: host of The Pete Holmes Show. Co-producers Oren Brimer and Nick Bernstein join Pete to discuss how their their love of sketch, stand-up, and offbeat interviews informs the shape of their late night show.
BEFORE YOU GO
PHOTO GALLERY
Comic Genius Portraits