A woman left her 9-year-old pit bull outside to die in the below-freezing temperatures during the Chicago area's polar vortex in early January and left its frozen body in a doghouse until it was discovered weeks later, police say.
Tracy Cherry, 46, was arrested Monday and charged with misdemeanor animal cruelty and failing owner's duties, according to a release from the Cook County Sheriff's Office.
The Animal Crimes unit received a tip on Jan. 16 about a dog left outside an apartment, Cherry's residence in the 1400 block of West 123rd Street in suburban Calumet Park.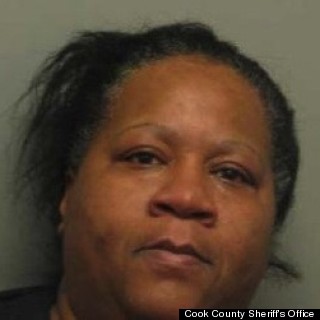 Tracy Cherry of Calumet Park.
A necropsy found the male white pit bull died of hypothermia. The sheriff's office investigated and determined Cherry had left the dog outside on Jan. 5 where it remained for about 12 hours. Calumet Park recorded a low of -1 degree on Jan. 5 and -15 degrees on Jan. 6.
Cherry is due in court Feb. 3.
BEFORE YOU GO
PHOTO GALLERY
We're Pit Bull People