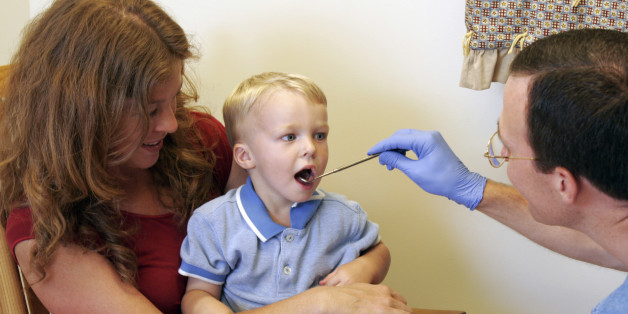 (Reuters Health) - Kids with serious tooth injuries are often taken to emergency rooms or primary care doctors first, so physicians and parents need to know how to treat broken teeth until a dentist can step in, according to a new report.
The new American Academy of Pediatrics guidelines on managing dental trauma are intended for doctors who need to be prepared when kids show up with serious dental injuries, but they also offer helpful information for parents who need to act quickly when a tooth is broken.
"The success of healing is time dependent in many trauma cases - so you want to have a dental home and not rely on the local Emergency Department," said lead author Martha Ann Keels.
Unless the child has other injuries, it would be ideal if parents could start first aid for a tooth injury and take the child straight to the dentist, she said.
About 25 percent of all school-age children break or damage a tooth at some point, according to Keels, who is chief of pediatric dentistry at Duke University Children's Hospital & Health Center.
Among kids, broken teeth are most often caused by falls, followed by car crashes, violence and sports, according to the report, published in the journal Pediatrics.
For physicians, the report contains a primer on tooth anatomy, emphasizing the differences between simple breaks involving only the tooth's outer enamel - known as a crown fracture - and more complicated injuries that expose the tooth's inner pulp or damage its root.
Doctors are also advised to check for jaw fractures and concussion, since head injuries that can break teeth may also cause other cranial damage.
Keels noted there are different protocols for baby and adult teeth. Baby teeth are not replanted, but adult teeth can be saved.
"If you chip a big piece off an adult tooth - save it and the dentist can glue it back on," she told Reuters Health in an email.
The guidelines advise a follow-up visit to a dentist in most cases, but also describe how doctors and parents should treat tooth injuries to improve chances the tooth can be saved.
A tooth that's displaced, but still in the socket can often be moved back to its original position by gently pushing it into place, and should be seen by a dentist.
Teeth that have fallen completely out of the socket are the most serious of all the dental injuries and parents or caregivers need to take immediate steps to save the tooth.
"If you completely knock out an adult tooth (root and crown) - handle the tooth by the crown part - gently rinse it off and replant it immediately - do not scrub it," Keels said.
Give the child a piece of cloth or gauze to bite on while you make the trip to the doctor or dentist. The cloth will help hold the tooth in place.
If you can't put the tooth back into the socket, put it in a small container of cold milk or saline solution. If you don't have milk or saline, have the child spit into a small cup - the tooth can be saved in the saliva.
Parents can also reduce the number and severity of dental injuries by taking age-appropriate measures. For younger kids, parents can put gates on stairways and make sure toys and other objects aren't left lying around where kids can trip over them.
Keels also urges parents to stop children's sucking habits before the adult teeth erupt. "Sucking habits can make the top front teeth protrude making them vulnerable to breaking," she said.
If the child's upper teeth are protruding beyond the lower lip, Keels recommends pursuing orthodontic treatment, such as getting braces.
Sports related accidents account for 10 to 39 percent of all dental injuries in kids, according to the report.
"Make sure your child wears a mouth guard for any contact sports," Keels said.
The American Dental Association recommends the use of mouth guards for 29 different sports and athletic activities.
Keels also recommends keeping the website www.dentaltraumaguide.com bookmarked as a reference. It's the most up-to-date resource and has the best evidence-based advice on what to do for different types of injuries, she said.
The nonprofit organization that runs the website also offers an app for smart phones, Keels said.
SOURCE: bit.ly/1b0T3SJ Pediatrics, online January 27, 2014.
Copyright 2012 Thomson Reuters. Click for Restrictions.
BEFORE YOU GO