He was not in uniform when he allegedly committed the offense.
Federal Veterans Affairs officer Jason Fougere is accused of sending an unsolicited naked selfie to a woman who had asked for his help tracking down her missing uncle, who is a former soldier.
The selfie, a blurred version of which can be seen in the video above and in a screen-shot below, was allegedly sent to the woman's cell phone.
"It's shocking," the woman, who asked not to be identified, told CBS L.A., "No one has ever sent me a nude selfie before. Let alone a police officer who I was going to him for help."
The woman met the officer in November. A few days after their first encounter, the woman said Fougere sent a text asking her out for coffee.
Things got more "graphic and dirty" from there, according to CBS News.
"Your boobs are humongous," he allegedly wrote in a text, CBS LA reports. "They must be fake. Those will be the first fake t**s I touch."
After the woman repeatedly rejected his advances, Hyper Vocal explains what allegedly happened next:
Surely at that point Fougere might remember that he's an officer and say, "Eh, this one got away." Nope. Unprovoked naked selfie time … WHILE HOLDING A RAZOR?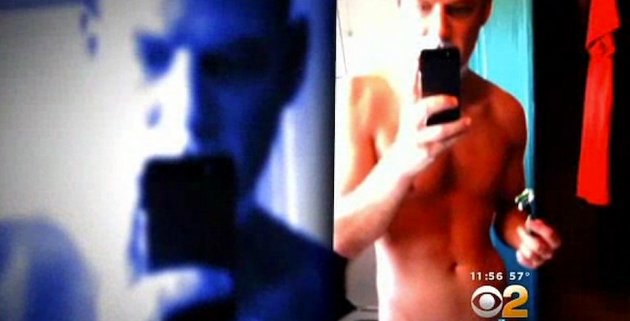 Fougere is now under investigation by Veterans Affairs.
BEFORE YOU GO