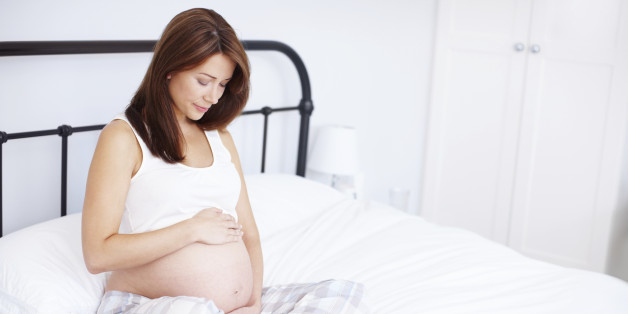 Pregnancy is usually one of the most exciting times in a woman's life. But if you're knee-deep in the divorce process, it's easy to see how the stress might overshadow your enthusiasm -- and why you'd take any help you can get.
That's why one pregnant and divorcing Redditor recently shared her worries about getting through the trying time on the site.
The woman explained that she had left her husband three months ago, a few months after finding out she was pregnant. She admitted she had been having an affair before her marriage ended, but failed to realize that she was pregnant with her husband's child at the time.
"It's been horrendously difficult and I feel very alone," she wrote. "I feel like the only person in the world dumb enough to proceed with a divorce while pregnant. I am not regretting my decision -- his anger and lack of joy was too much for me. I just wish I could hear from others that have been through this and came out on the other end in once piece."
In response, Redditors on the board -- some who'd gone through divorce while pregnant themselves, some who'd watched their own mothers make sense of a similar situation -- chimed in with advice on how to deal with something so undeniably difficult.
Below, read five things they said women need to know about getting divorced while pregnant:
1. The uncertainty you feel about the future is normal -- and it will scare you.
One Redditor explained that she was currently in couples' counseling after her husband told her he wasn't in love with her anymore -- and she's three months pregnant. "I totally feel your pain, with all the uncertainty and changes going on in your life," she said. "It is really scary to be pregnant, and not know 100 percent what your future looks like."
2. You'll be glad you didn't put your child through the divorce later on in life.
It's not easy being a child of divorce, one Redditor suggested, but it's better to end it now, when your child is too young to know any differently, than later on in his or her life.
"It's way better than doing it once you have a baby to manage, and waaaaay better than doing it once the kid is old enough to have to deal with the emotions of watching her parent's go through a divorce," the woman wrote. "Divorce is never the ideal, but you're smart to get on with it."
3. You'll be a good parent, even if you end up parenting solo.
"If your husband chooses to be part of your baby's life, let him," said a Redditor whose dad walked out on her mom when she was seven months into her pregnancy. "If not, then so be it. He'll regret that later on. You are not a terrible person and don't ever let anyone let you feel that way."
4. You'll rebound eventually.
A Redditor whose parents split because they were expecting stressed that it's possible to bounce back after divorce.
"You will get through this," the Redditor said. "My mom did. She even met the man of her dreams, who I call my dad. You made a hard choice, but if you were unhappy then it was absolutely the right choice."
5. Staying married would have been a disservice to your child.
"It's better to be from a broken home than in a broken home," another Redditor offered. "If you were not happy with him and things were so rocky in your life together, it would be a disservice to stay just for your child. A baby won't fix that and shouldn't be born with a job to do. I think you're doing the right thing for yourself AND your child."
Keep in touch! Check out HuffPost Divorce on Facebook and Twitter.
BEFORE YOU GO
PHOTO GALLERY
Divorced While Pregnant Celebs