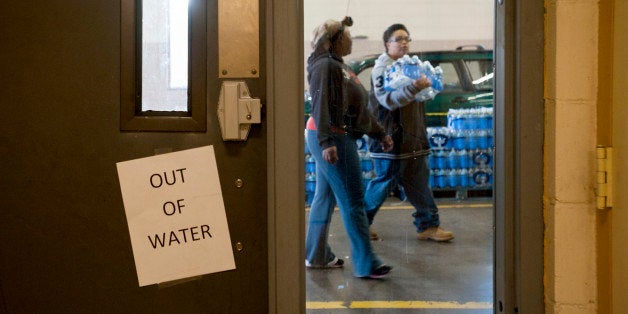 Some West Virginians affected by the chemical spill earlier this month are still not drinking their tap water -- and donations of bottled water are starting to dry up.
"We could bring 100 to 200 gallons of water to an area, and it could be gone in an hour. People are coming and getting it that quickly," Dustin White, an organizer with the Ohio Valley Environmental Coalition, told The Huffington Post. "There are still a lot of people who are afraid to drink the water."
White is one of many volunteers with the West Virginia Clean Water Hub, which has been gathering donations of water and cleaning supplies, and delivering them to people in the affected areas since the Elk River spill was first detected Jan. 9. While some water distribution centers remain open, White said, they can be difficult to access for those living in remote areas or lacking transportation.
White spoke this week from his father's home in James Creek, which is in Boone County. "Boone's aid was pretty much stopped the day they said they could turn the water back on," said White. His family has seen just one Red Cross truck, he said, and it was distributing only one package of water per household. Meanwhile, he said the water in his father's house still smells sweet, like licorice, and causes itching and burning when used to shower.
It's not surprising that people are still concerned about the water now, nearly three weeks after the spill from a tank belonging to Freedom Industries was discovered. Even though the formal advisory against drinking the water has been lifted, Gov. Earl Ray Tomblin told residents last week that it was up to them to decide whether or not to drink the water. A day later, Freedom Industries revealed that a second, previously undisclosed chemical, PPH, also spilled into the water, along with the chemical 4-methylcyclohexane methanol (MCHM).
This Monday, the state Department of Environmental Protection announced that, according to Freedom Industries, the total volume of chemicals that spilled is higher than previously disclosed -- 10,000 gallons, rather than the 7,500-gallon initial estimate.
Given the ongoing problems, Tomblin asked the Federal Emergency Management Agency to modify the emergency declaration for the region so that agencies and nonprofits still providing relief can be reimbursed. The state's congressional delegation also sent a letter to FEMA Wednesday, requesting additional federal support and noting that since Freedom Industries has declared bankruptcy, there "seems to be little hope that these costs can be recouped by the party found responsible for this event."
The one positive story to come from the water crisis, said Elise Keaton, executive of the Keeper of the Mountain Foundation, is the power of volunteers. She said donations from across the United States and the world totaled close to $7,000, and were used to purchase and distribute water in more distant affected areas. The official water distribution stations, "by and large, only served the populated areas, which in West Virginia is missing a huge portion of the population," she said.
Aurora Lights, a group from Morgantown, also organized shipments of donations to the affected region. Jen Osha and Hannah Spencer have coordinated that effort, sending 11 shipments of water, cleaning supplies and liquid baby formula in the last three weeks. On Sunday, they packed a dump truck with more than 1,600 gallons of water –- "everything we could possibly stuff in the truck," Osha said –- and sent it to Seth, W.Va., about three hours away. Local youth groups, a veterinary hospital, small businesses, church groups and schools have all chipped in. "It's a positive story in the midst of a crisis, how people are working together," said Osha.
The need does not appear likely to go away anytime soon, said Keaton, as "a lot of folks are really hesitant" about drinking the water. Many have told her they don't plan to drink the tap water again. Officials will have to produce "a lot of demonstrable evidence" to prove to people that it's safe again, she said. "If we can't produce that, that's of course a bigger issue."
That may prove difficult, according to those on the ground. "People don't trust the information they're getting anymore, because this whole thing has been a blunder," said White.
BEFORE YOU GO
PHOTO GALLERY
West Virginia Chemical Spill