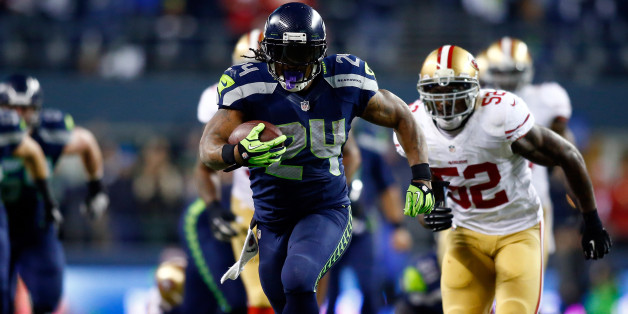 During a highly decorated 11-year NFL career, Curtis Martin became one of the league's most celebrated and versatile running backs. Martin, 40, is a Pro Football Hall of Famer and ranks fourth in NFL history in rushing. The Huffington Post tracked him down to talk about the cold weather and how it could affect the running game in Super Bowl XLVIII between Denver and Seattle.
On The Cold:
"I think the weather conditions actually make it better for the running back. When it's very cold and it's adverse conditions, you find a lot of other players are thinking too much about the conditions rather than making the tackle. Sometimes when it's so cold, people don't want to come in there and stick their head in that pile too hard. I really enjoyed when there was some type of adverse conditions when I was playing, because I always felt like it played into my advantage."
"When I played, I wouldn't wear sleeves, I wouldn't wear long johns or anything beyond what the normal football uniform was, simply because I wanted to give the impression that the cold wasn't bothering me at all. And I knew that it was bothering them. For me, it became more of a mental game. It became a way to work as intimidation in a sense. When I knew that they were cold and might not want to hit as hard, I would hit even harder, just to make them a little more hesitant on making the tackle."
On Seattle Running Back Marshawn Lynch:
"I think he and Adrian Peterson [are the top two running backs in the NFL]. He deserves the name 'Beast Mode.' The guy is huge; he can actually get away from you. Usually you don't see the type of attributes that Marshawn Lynch possesses all in one back. A guy is either quick or he's fast or he's strong, but usually not all three at the same time. He has a way of creating his own openings and his own plays. When you see his runs that have coined him Beast Mode, it's not necessarily that he has the best blocking; it was just something that he was able to do with his natural ability."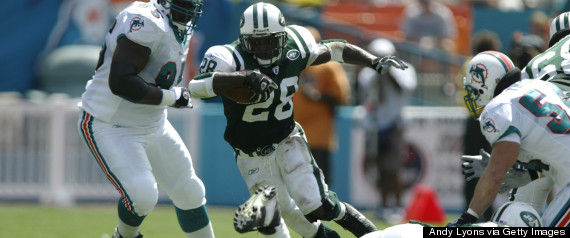 Running back Curtis Martin of the New York Jets during a game against the Miami Dolphins in 2002 in Miami.
On Denver Running Back Knowshon Moreno:
"When you're not getting those eight-, nine-man fronts, that makes a big difference in the running game. ... The offensive line has to have their best game blocking, because at the end of the day, Seattle's defense is very aggressive. You're not gonna run too many of them over, you're not gonna run away from too many of them."
On The Running Game:
"I think what really matters is the running back touches the ball enough times, because the more you touch the ball in the cold, the better you feel, the more you get into a rhythm."
Email me at jordan.schultz@huffingtonpost.com or ask me questions about anything sports-related at @Schultz_Report and follow me on Instagram @Schultz_Report. Also, be sure and catch my NBC Sports Radio show, Kup and Schultz, which airs Sunday mornings from 9-12 ET, right here.
BEFORE YOU GO