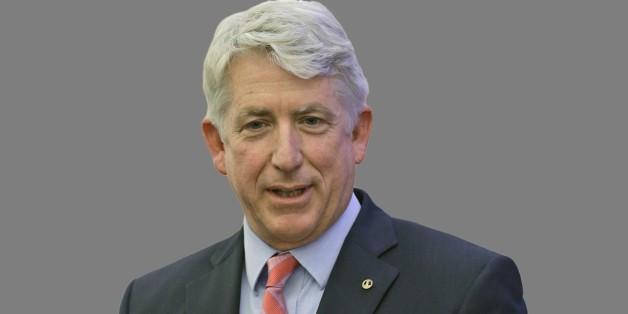 A group of Virginia religious leaders on Wednesday called on Attorney General Mark R. Herring to reverse his position on same-sex marriage.
If not, they said he should face impeachment.
"We're concerned about the moral state of the nation and the future of our civilization here in Virginia," said Donald N. Blake, president of the Virginia Christian Alliance, at a news conference at the state Capitol.
Herring announced last week that he has found Virginia's same-sex marriage ban to be unconstitutional. He said he would not defend the law in federal court, but would side with a gay couple who are suing to overturn the ban.
House Majority Leader M. Kirkland Cox, R-Colonial Heights, has said he does not envision Herring being impeached.
But those at the news conference were undeterred.
"Just two weeks ago, we watched the attorney general swear on a Bible that he would uphold the Constitution and the laws of the commonwealth, and he has already backed off," Blake said.
In 2006, 57 percent of the Virginia electorate voted for an amendment to the state Constitution that defines marriage as between a man and a woman.
"Those people voted that way because of their religious beliefs and their moral convictions, and that hasn't changed," Blake said.
Bishop Leon Benjamin, pastor at New Life Harvest Church in Richmond, said that Virginians spoke up by backing the amendment.
"It was plain that when people cast their vote, they are also casting a lifestyle," Benjamin said. "Here we are now, and it seems that there is a collision going on, and we just want to avoid the catastrophic results when we go back on what we stand for. The decline of so many things can happen."
President George Washington refused to allow the practice of homosexuality in his armed forces, said Charles Crismier, a retired attorney from Richmond.
"He called it a perversion that would destroy both the spirit and the ability to perform and be honored by the God that (the soldiers) claim to serve. How dare we impute the integrity of the father of our country?"
The religious leaders at the news conference said that Herring, who had voted for the 2006 amendment but changed his views in recent years, should defend the Virginia Constitution or face impeachment proceedings.
"Herring can change his mind, but he cannot change the Constitution," said John Sloop, chaplain of the Valley Family Forum in Shenandoah.
The Rev. Robin H. Gorsline, president of People of Faith for Equality in Virginia, disagrees with clergy at the news conference and said many religious leaders support Herring's move.
"People of all faiths across Virginia cheered when they heard Attorney General Herring announce that the commonwealth of Virginia had decided to stand on the side of justice for the oppressed, even though it is the laws of Virginia doing the oppressing," Gorsline said in a statement.
"Just think what might have happened if Pharaoh's attorney had told his employer he was wrong to keep the Hebrews in bondage, or just think what might have happened if the attorney general of Virginia in 1954 had refused to argue in favor of segregated schools. Today, clergy would be preaching about those heroes. That is how many of us feel about Mr. Herring," he said.
"Justice is breaking out across the land. We are celebrating, and giving thanks to a merciful and loving God for the attorney general." ___
BEFORE YOU GO
PHOTO GALLERY
Anti-Gay Celebrity Statements